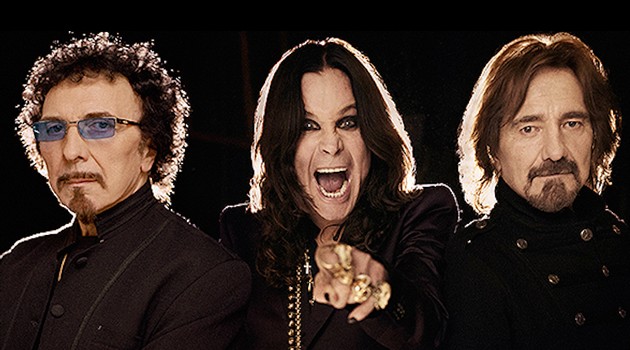 Black Sabbath is back and it's like they never left. The originators of Heavy Metal have just released "13" and it is a masterpiece. Some sources will say it's not Black Sabbath without Bill Ward, his achievements speak volumes with no disrespect towards him, but I'm sorry to say this cd is Black Sabbath. It is reminiscent of their beginning and it brought me back in time literally. Days long forgotten popped into my head and it was like putting their first album "Black Sabbath" on a record player at a friend's house in the early to mid-seventies. A few of the tracks are long but one can't help listening and almost immediately getting lost in them. Their medieval sounding bass lines, eerie but yet intense guitar riffs, pounding, deafening drums and of course the distinctive vocals of Ozzy Osbourne say Black Sabbath from the very first track. Black Sabbath has been conquering the world since 1969 and although they have had a thirty five year hiatus no rust appears to be on them whatsoever. They sound and play like no time has elapsed at all and still have their original techniques completely intact.
Black Sabbath 13 has an abundance of incredibly tempting songs. "End of the Beginning" is looming as the first track and it is similar to their "Black Sabbath" debut album at the start, then it seems to explode into a collection of everything they have done through their career. It grabs hold of you and entices one into listening with contentment and open mindedness.
As always Black Sabbath tests the "Faith" factor in practically all their music and "13" is no different. "God Is Dead" asks many questions that countless are afraid to speak of, dark and demonic like, it hauntingly resembles their guise on "Master of Reality". Ozzy as always, seems to sell the lyrics with conviction and attitude only fit for a Black Sabbath cd.
Tony Iommi is maniacal on guitar and captures the essence of where Sabbath came from throughout this cd. His methodical but yet calming chords are ominous to say the least. "Zeitgeist" is mantra like and hypnotic. His ability to still capture the uniqueness of Sabbath after thirty plus years is impressive in itself.
The talents of the one and only Geezer Butler are all over this cd. The droning bass that is Black Sabbath is distinct and ever present. "Damaged Soul" and "Dear Father" shows his ability to instill the undeniable throbbing bass that always epitomized Black Sabbath.
Brad Wilk took the place of Bill Ward who declined to be on this cd. He did an outstanding job and did not comprise the texture or sound of Black Sabbath. His adaptability in a short amount of time did not hinder the process of this cd. His skills are almost identical to the style and sound of Sabbath and he pulls it off without a hitch.
According to some critics this cd is lack luster due to sound quality and poor mixing processes. The sound of Black Sabbath is strong and dominant on "13", there are no abrupt or noticeable imperfections in the quality of their trademark sound. If anything they sounded exactly like themselves on this cd and didn't surrender who they are or what they are about. They have spread an assortment of original Sabbath all over this long overdue anticipated release and the original Heavy Metal founders have surprisingly created an apocalyptic cd that will fully embody the long time dedicated Black Sabbath fans.
BAND
Ozzy Osbourne – Vocals
Tony Iommi – Guitar
Geezer Butler – Bass
Brad Wilk – Drums
TRACKS
End Of The Beginning
God Is Dead
Loner
Zeitgeist
Age Of Reason
Live Forever
Damaged Soul
Dear Father