Black Star Riders- All Hell Breaks Loose album review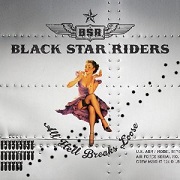 Black Star Riders have released their debut album. While the name might not be familiar, the band's origins are. In short, Black Star Riders is the new name for the reunited Thin Lizzy. The album, All Hell Breaks Loose, is a hard-hitting rock album that could quite possibly be mistaken as a new Thin Lizzy album: the songs, for the most part, sound like they were made by Thin Lizzy. Out of respect to Lynott, the band decided to not record this album under the Thin Lizzy name. Still, All Hell Breaks Loose manages to be an enjoyable album that Thin Lizzy fans of old should listen to.
Black Star Riders consists of guitarist/singer Ricky Warwick, guitarist Scott Gorham, guitarist Damon Johnson, bassist Marco Mendoza and drummer Jimmy DeGrasso. It should be noted that of the five members, Gorham is the only member that was in the original Thin Lizzy with Lynott. Still, the new guys seem to be huge fans of Thin Lizzy's work and are all great musicians.
The self titled track is a simple badass rocking opener. The guitar riff sounds similar to the one in the Lizzy classic "Sha La La La" except a little more aggressive. Gorham and Johnson shine throughout the album, using the trademark Lizzy dual lead guitar sound to its advantage. An example of this can be found in "Bound for Glory". The song sounds an awful lot like something Thin Lizzy would've made back in the day. Warwick's vocals, especially on this song, could be mistaken as Lynott's at times. Of the 11 songs on the album, "Bound for Glory" is probably my personal favorite song.
While "Bound for Glory" might be the most Thin Lizzy-ish track on the album, that doesn't mean the rest of the album isn't. Take a song like "Hey Judas", which is a great character-type song. Fans of Lizzy will know that Lynott liked writing songs about all sorts of characters such as Johnny the Fox and Valentino the gambling man. While partially based off Judas Iscariot, "Hey Judas" is a well-written song with Lynott in mind. The same could be said about the rough rocking "Valley of the Stones", the bluesy flavored "Someday Salvation", and the military-riddled "Before the War"- all of which are based around history, another subject Lynott held close to his heart.
As Thin Lizzy were originally an Irish rock band, the new band doesn't shy away from this fact. "Kingdom of the Lost" is a very Irish/Celtic influenced battle cry, complete with Irish whistles and even bodhrans drums. "This home is not our home from home/This land is not for free" sings Warwick. "No matter where I work or
roam/Won't bring my country back to me". Other highlights on the album include the cowbell-driven "Hoodoo Voodoo" and bass heavy closer "Blues Ain't So Bad".
All Hell Breaks Loose is an impressive debut effort from Black Star Riders. The album could almost been seen as a love letter to Lynott: from its Lizzy sound to even its title (a lyric in "Jailbreak"), it is a touching tribute. I'm sure that the late great Phil Lynott is looking down on the band, with a smile on his face; very proud.