Broken Bells – After the Disco Album Review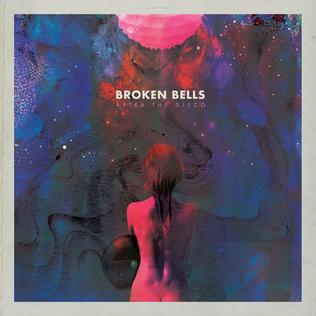 Review By Kelly O
Broken Bells is:
James Mercer – various
Brian Burton – various 
Brian Burton is more well known as the Grammy award-winning producer Danger Mouse, credited with working with the likes of Gorillaz, The Black Keys and Gnarls Barkley. He's also the guy that decided it would be a good idea to combine the vocals from Jay's The Black Album with the instrumentals from The Beatles The White Album and, quite ingeniously, he called it The Grey Album. I know that record has its fans, but to me it's one of few mist-steps from a producer who has proven his worth by collaborating with a number of artists from a broad field of genres. His collaborator on the Broken Bells projects is James Mercer, better known as that bloke from the Shins. 
With so much talent on board, it's hard to imagine that this effort could be anything but a success. It may have been four years since these two got together to put out their self-titled debut record, but you don't just lose that kind of magic. Broken Bells was a masterful display of indie rock anthems and dancefloor-filling numbers from top to bottom. If you couldn't already tell by the title, After the Disco is a record sonically encapsulates the journey from leaving the club at what sill early hour of the morning, staying out to see sunrise before making it home just as everybody else is getting up to go to work. Then you hit the sack for a few hours before preparing to do it all over again later that day. In that sense, it's a less experimental record and one of more concise, stream-lined production. 
Broken Bells, the 2010 debut, was full of lots of experimental sounds and dipped its toes into many different genres, refusing to fully immerse itself in one sound, and the record benefit from that. It felt organic, it felt natural and it felt like two successful artists making a record without any expectations of them. Since then, Danger Mouse won a Grammy while the Shins returned with the fantastic Port of Morrow, a record that solidified Mercer as one of the better song-writers of his generation. And as such the expectations increase exponentially, and you get the impression that that's weighed heavily on Broken Bells as they try to piece together a successful follow up. After the Disco is by no means a bad record, but it's certainly a safe one. 
After the Disco is a well-structured affair and a cohesive project, opening with the atmospheric "A Perfect World" and closing with the brilliant ambiance of "The Remains of Rock and Roll." From opener to closer, everything is extremely well produced. The music feels weightless, and it carries you on a journey through time and space but it never stops to let you get off and see the sights. It's a very atmospheric record all round; we're frequently greeted by the vast, dark soundscapes and otherworldly ventures into black chasms – we never quite no where going and by the album's end, we've no idea whether we actually made it or not. You have to credit Burton for the production, but you wonder if he would have just let loose a little bit this record may take you to further, great plains. 
"Leave It Alone" is a standout track, beginning with plucky little acoustic sounds and an emotive vocal from Mercer, who's vocal range seems to have grown considerably since the previous record. Through After the Disco, Mercer displays a vocal that ranges from delicate and enchanting to powerful and haunting. "Leave It Alone" is where he seems at his most comfortable, backed by the slickest of productions and breaking out into a soulful rally-cry as the track builds up to its pleading chorus. The track goes on to feature what begins as a vibrant guitar solo that ends prematurely, and that's one of the key instances where you just wish these two would let a few more things grow. All too often songs that sound like they have the potential to be great have their legs chopped off them by two artists who seem afraid of isolating anyone. The record is more accessible than the first, but those fans it does attract are not going to be blown away like fans of the debut likely were. 
Broken Bells – "Holding On For Life"
Track listing:
1. Perfect World
2. After the Disco
3. Holding On For Life
4. Leave It Alone
5. The Changing Lights
6. Control
7. Lazy Wonderland
8. Medicine
9. No Matter What You're Told
10. The Angel and the Fool
11. The Remains of Rock and Roll
Running time: 45:46