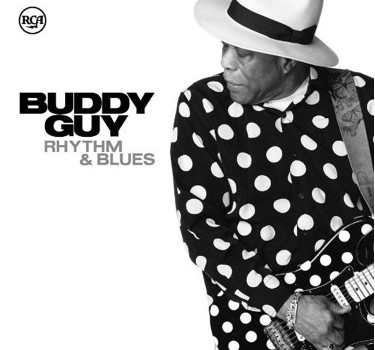 Review by King Dale
Well, the old man is at it again. At the ripe old age of seventy-seven, Buddy Guy is still giving it his all, which is a lot more than most. It's amazing to me the quality of work that he's producing this late in his career. While most aging bluesmen would often do compilations of their classics, Buddy continues to stay on top of the ever changing landscape of the Blues.
With the help of his new song writing collaborator and producer, Tom Hambridge, Buddy calls him the white Willie Dixon (who just happens to be one of the best song writers of all time), Buddy continues to put out some of the best Blues out there. His new release, Rhythm & Blues, may be his best effort yet. Buddy, in my eyes, has always been the blues guitar king. No disrespect to the King boys (B.B., Albert & Freddie). In fact, if you put Buddy next to these three legends, you'd have the Mount Rushmore of electric blues guitarist.
Rhythm & Blues is a two disc album that starts off with the track, "Best in town", which is a catchy tune about holding the fort down till the best comes around, and I'm sure he's had a lot of people hold the door open for him. One of my favorite tracks on the album is called "Justifin'", where Buddy cuts loose and just tears it up, like only he can. If you've never seen him live, you're definitely cheating yourself. This song is a great example of his live playing. Buddy Guy is such an intense performer. He definitely gives it all to you.
"I Go By Feel", is certainly a little insight into the creative mind of Buddy Guy. Where most musicians structure their songs and solos, Buddy does it all by feel. Being well schooled in the playing styles of his fore fathers, every song he plays is an extension of his love for them.
The remainder of disc one is a mixture of originals and some classic covers. The one that stands out the most for me, is "Messin' With The Kid", made popular by Buddy's long time sidekick Junior Wells. With the help of Kid Rock, they deliver a very fine performance. I'm sure it would have made Junior proud.
The second disc starts off with an ass kickin' tune called "Meet Me in Chicago". The city that's been Buddy's home for the last fifty some odd years. Of all of great Chicago bluemen, Buddy's the man standing, and standing proud he is. This album is full of surprises. Including a visit from Boston's own bad boys Steven Tyler, Joe Perry and Brad Whitford of Aerosmith. The fellas played along side Buddy on a song called "Evil Twin", another original by Mr. Hambridge.
If you're a blues fan, you've got to get this album. If you're not, maybe it's time you got on board. The blues is the only original form of American music. Everything that came after it is just a different form. You may be listening to blues everyday and not even know it. We can't afford to let this music die. Many bluesmen died broke, but they all had one thing in common; They all died doing what they loved, playing the Blues. Let's make sure they all don't die in vein. Keep the Blues alive. "Thanks Buddy".