Finger Eleven to Release First Studio Album in Five Years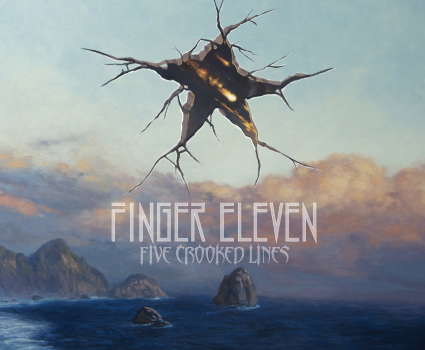 When Finger Eleven–Scott Anderson (vocals), James Black (guitar), Rick Jackett (guitar) and Sean Anderson (bass)–decided to start writing the follow-up to their 2010 album Life Turns Electric, the band members all agreed they wanted to do something different. Since their formation in high school in 1990 (as Rainbow Butt Monkeys), they had released seven full-length albums – including the 2007 Juno Award winning Them vs You vs Me, which featured the smash hit single "Paralyzer" — and experimented with a variety of styles such as hard rock, classic rock, heavy blues and textural pop. So, over a two-and-a-half year period, they decided to try a bit of everything over a multitude of writing sessions.
In addition to capturing a primal, authentic feel, Five Crooked Lines incorporates the band''s earliest influences and recontextualizes them in an explosive modern framework. "Absolute Truth" features a turbulent rhythm that tumbles through a vortex of quasi-psychedelic guitars, "Blackout Song" is a feast of fuzzy, wailing riffs, four-to-the-floor beats and euphoric hooks and the title track exits the gate with crashing symbols, a buzzing passage and a counter-melody that keeps the music pumping. From one song to the next, there are no compromises, no concessions and nothing tailor-crafted to suit any outside demands. There''s even a seven-minute song, "Come On, Oblivion," a transcendent ebb-and-flow mélange of trippy acoustic and electric instrumentation that's as reminiscent of early The Verve as it is of Pink Floyd.
Here's the track listing for FIVE CROOKED LINES:
1. Gods Of Speed
2. Criminal
3. Save Your Breath
4. Wolves and Doors
5. Come On, Oblivion
6. Not Going To Be Afraid
7. Five Crooked Lines
8. Blackout Song
9. Absolute Truth
10. Lost For Words
11. Sensory Eraser
12. A New Forever