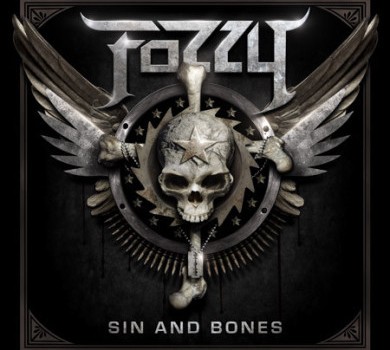 Band: FOZZY
Album: Sin and Bones
Relase date:  August 14
Members:  Chris Jericho – Vocals
                 Rich Ward – Guitar
                 Frank Fontsere – Drums
                 Paul DiLeo – Bass
                 Billy Grey – Guitar
Website:  www.fozzyrock.com
Review By: Micah Gummel
When I remember watching Chris Jericho wrestle in ECW, WCW, and WWE I I never thought I would see him playing in a band!  This is now the 5th album of Fozzy and ROCKS!. After great releases like "All That Remains" and "Chasing The Grail", they have created yet another one hell of an album.
Chris Jericho's vocals on power tracks like "Spider In My Mouth" and "Blood Happens" are just as accompanying to the band as his vocals on the more melodic songs like "Inside My Head" and "A Passed Life".  He brings power, emotion, clarity, and keeps everything on key.  The single "Sandpaper" is a good example of what Jericho can do on the mic. 
Behind him Jericho has a band that features Rich Ward (Stuck Mojo and touring member with Adrenaline Mob) on guitar leading the charge creating heavy riffs and forming a musical sound that has elements of Randy Rhodes, Tony Iommi and Zakk Wylde all mixed together.  With Frank Fontsere on drums, Paul
DiLeo on bass, and Billy Grey on guitar, the band shreds on tracks like "Dark Passenger", a tune with heavy riffs, power chords, and soloing that will melt the mind. 
I have been following Fozzy for a long time now. I have always loved their work. Thus, I had great expectations for this album and Fozzy even managed to exceed my expectations. To me, this one of the best metal albums of this decade. They really proved the critics who thought is was just an average band founded by a professional wrestler and a rap metal guitarist. "Inside My Head" and "A Passed Life" are the best songs in my opinion. But I loved "Spider In My Mouth", "Shine Forever", "Blood Happens" too. They're probably isn't a bad song in this album, but "Storm The Beaches", "Dark Passenger" is probably the weaker songs in there. But, overall I loved it and I really hope Fozzy gets the success they greatly desire.
This is probably the most musically complete and after listening all the songs, you could see how they have matured, in terms of creating songs. If you're a fan of the 80's heavy metal and hard rock bands (Metallica, Iron Maiden, Def Leppard) you'll definitely love it. Chris Jericho recently stated that he wanted this album to be their "Black Album". I really hope that they find commercial success with this 'cause they really deserve it and after hearing this album, I will say that they're one of the best metal bands out there right now
"Sin and Bones" track listing:
1. Spider In My Mouth (4:47)
2. Sandpaper (3:12)
3. Blood Happens (4:07)
4. Inside My Head (4:02)
5. Sin And Bones (3:36)
6. A Passed Life (6:55)
7. She's My Addiction (3:22)
8. Shine Forever (5:45)
9. Dark Passenger (4:23)
10. Storm The Beaches (11:34)