Jimi Hendrix: Hendrix In The West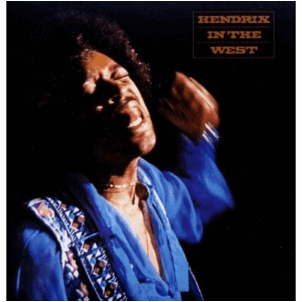 Album Review by King Dale
JIMI HENDRIX
HENDRIX IN THE WEST
Finally, the wait is over. This live album by Jimi Hendrix has been out of print since 1974. After his untimely death in 1970, there were a lot of various live recordings released, along with some unfinished studio takes. This album is definitely one of the best and most sought after recordings of this type.
Originally released in 1972, "Hendrix in the West" is a compilation of some of Jimi's most memorable live performances. When the album was first released in 1972, the record company messed up the order of the LP sides and started the album on side two.
Now forty years later the correction has been made with the help of this new reissue.
The majority of the tracks were recorded in California from 1968 to 1970, which would explain the album title. But the first two album tracks come from the other side of the pond; the all famous Isle Of Wight concert, August 30th, 1970, just nineteen days prior to Jimi's death. He must have felt right at home in England, being the place were he first launched his professional career. He treated the fans to a medley of "The Queen" and "Sgt. Peppers Lonely Hearts Club Band". Both songs were a touching tribute to British royalty.
The next track is definitely a Hendrix classic; "Little Wing", is probably his mostly covered song. And if you hear this beautify presented live version, you'll know why.
The following three songs were not on the original release. If you were to call these bonus tracks, it would certainly be the right choice of words. These three songs
"Fire", "I Don't Live Today" and "Spanish Castle Magic", performed here by the original "Jimi Hendrix Experience", have got to be some of the best live recordings of Jimi I've ever heard. The best thing the Hendrix Family Estate ever did washire Jimi's old recording engineer Eddie Kramer. I can't say enough about the quality work he's done. Not just on this album, but the entire Hendrix catalogue.
Now comes my favorite Hendrix tune, "Red House". Being the blues nut that I am, this soulful rendition really hits home for me. A killer blues solo from Jimi Hendrix is the closest you'll come to achieving orgasm with your clothes on. A total climax.
Jimi then does a tribute to one of his childhood heroes, rock n' roll legend, Chuck Berry. You wouldn't expect to hear "Johnny B. Goode" at a Hendrix concert, but to the delight of the crowd, he sure gave it his all on this night, like he so often did.
"Lover Man" became one of Jimi's live staples in the latter part of his career. The song has a great beat, which allows Jimi to expand his solos and show us all to this day why he's still the number one guitarist of all time.
This version of Carl Perkins' "Blue Suede Shoes" was actually recorded during a sound check for one of his Berkley shows. One thing about Jimi, he always had fun with it. The album closes with Jimi's signature theme song. "Voodoo Child (Slight Return)" is definitely one of the best guitar anthems ever made, and he sure cuts it loose in this one.
Even if your just a casual Jimi Hendrix fan, this album is one you should consider purchasing. It's some of the cleanest and best sounding live recordings of Jimi you'll ever hear. Enjoy!
TRACK LISTING
1-The Queen
2-Sgt. Peppers Lonely Hearts Club Band
3-Little Wing
4-Fire *
5-I Don't Live Today *
6-Spanish Castle Magic *
7-Red House
8-Johnny B. Goode
9-Lover Man
10-Blue Suede Shoes
11-Voodoo Child (Slight Return)
* Previously Unreleased
——————————————————————————–
Fans looking at this post have also checked out: