Madlife's 21st Century Megalomaniac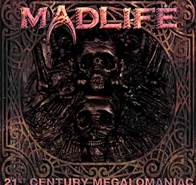 Styles regarding bands and genres in music today vary immensely. Madlife is a style unto its own; some even say industrialized hard rock and that could be considered one summation of them. The band seems to fuse electronic, pop, metal and hard rock into this genre. Their new cd, 21st Century Megalomaniac is a treasure waiting to be found.
The four piece band from L.A. seems to have a grip on what they want to create. 21st Century Megalomaniac has an abundance of enticing hard rock that leaves one craving more. Madlife has played on stage at the Rockstar Mayhem Energy Drink Festival and with artists such as Korn, Slayer and Marilyn Manson.
This five song EP has something different with every track and each gives a diverse feel. "Just One Gun" is a powerful proclamation that raises awareness to societal deficiencies and the composition is that guns are influenced by people. The instruments with a clash of harmony join forces to create a motivating message.
"To Live and Die in Hollywood" is an infusion of melodic tones with an electronic synthesizer sound that erupts along with the symphonic vocals, blazing guitars and heavy drum beats. The song encapsulates momentum and strength to create a perfect balance.
Track three "I Know the Feeling" is not your typical ballad; it encompasses the mundane side of everyday life. The powerful sound is hard driven and realistic which takes you into the darkest places of one's mind.
Madlife has been around for longer than one would think, since 2000. They also embarked on branching out in 2006 with doing tracks for movies and Television. This cd is packed with diverse sound and powerful lyrics, every song is luring and you want the experience to go on and on. This band has innovation to their sound and I highly advise checking them out.
BAND:
Angry Phill- Vocals
Isaiah Stuart- Guitar
Kyle Cunningham- Drums
Carlos Pagan-Bass
TRACKS:
1. Just One Gun
2. To Live and Die in Hollywood
3. I Know the Feeling
4. Pain Of Pleasure
5. Still Alive