Newsted – Heavy Metal Music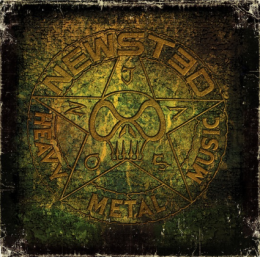 Heavy metal is back where it started: in the underground, repressed by the ever-changing tastes of the majority. Nevertheless, the genre continues to move forward, branching out into a web of subgenres and offshoots. It's sonically boundless, artists always trying to one-up themselves and one another in a quest to innovate. This progressive diversity is what makes metal so alluring, amorphous, and thought-provoking.
But sometimes you just gotta pound some beers, fucking headbang, and let the visceral take over. It's something ex-Metallica bassist Jason Newsted knows all too well. The years of bashing around onstage and twirling his hair like a helicopter decimated his shoulder muscles, and he's undergone multiple surgeries to repair the damage. He has physically suffered for the music, but he wasn't a casualty of it. Surgeries be damned, Newsted formed a no-frills thrash band under his own name. The results are heavier than anything Metallica's done in over 20 years.
Newsted's debut LP, Heavy Metal Music, comes after a short teaser EP released earlier this year. It promised metal — nothing more, nothing less. And not any of this newfangled prog and metalcore. This was throwback thrash, booze-soaked and angry. Two tracks from that EP  ("Soldierhead" and "King of the Underdogs") carried over onto the record, which was a wise choice, as they remain the band's best songs.
As a vocalist, Newsted comes from a punk background, and his melodic bark is surprisingly nuanced, yet gruff and growly enough to align with the rawness of the music. His former band Voivod comes to mind, as Newsted writes songs of a similar speed and urgency. The sci-fi themed "Tail of the Twisted Comet" sounds like it could've been on Nothingface, with psych flourishes and fiery tremolo picking from guitarist Mike Mushok. While not distracting, the lyrics are Newsted's weakest element. They're often dry, standard fare aggressions toward war and society, mixed with some attempts at symbolic storytelling. Couplets like "demon-scene Hellscape / try to not get dead" sound cool when Newsted shouts them, but they fall flat on the slower, poppier tracks ("Above All", "Ampossible").
Jason Newsted deserves some credit for not overthinking his approach. Heavy Metal Music is a blunt statement of intent: horns-up thrash that's mean and dirty, like it used to be. Newsted's triumphant return has been one of the most surprising heavy metal success stories of 2013. They just don't make 'em like this anymore.