Rob Zombie – Venomous Rat Regeneration Vendor Review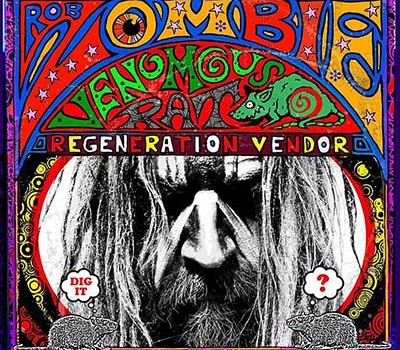 Any time you get an aging hard rocker putting out a new album, there is immediate concern. Some efforts are cash grabs. Some are legitimate game changers. Some are more of the same…which is a good thing. Rob Zombie's latest effort, "Venomous Rat Regeneration Vendor," is mostly more of the same with just a little growth and a little bit of "color by numbers." While many debate the quality of his films, there is no doubt that many will be pleased that he keeps his day job as the dark prince of creepy fun hard rock & metal.
Make no mistake, Zombie isn't what Sabbath was. True pioneers. However, what Zombie is in all his incarnations as a musician, is a clever caretaker of all that has come before him. He weaves a tapestry using all his influences including 70's hard rock, metal, electronic, funk, horror/b-movie dialog and imagery, comedy, kitsch, sex, drugs, violence, gore, freaks, and just about everything else. It's a virtual chaotic mess that somehow turns into a cohesive musical circus. It started with White Zombie, but has continued with his solo work.
Much of his recent success is due to his musical counterpart, John 5 (formerly from Marilyn Manson/DLR Band/etc.). 5 and Zombie really seem to be clicking. Instead of coming off bored and redundant, there is still a freshness in the sound that really appears to stem from the camaraderie of the band. Rounding the group out is Piggy D on bass, and Ginger Fish on drums (another ex-Manson member). Bob Marlette does a great job of producing the album. It sounds crisp, yet gritty.
The album leads off with "Teenage Nosferatu Pussy." Not exactly a subtle track. It's got a slow chunky groove, but is a bit monotonous. Not a bad track, but the expectation would be for the first track to really wow the listener. The first listen is solid, but it doesn't have enough to it to put it in heavy rotation. Not the case with the next track…
"Dead City Radio and the New Gods of Supertown" is Zombie at his finest. It's all there…metal, funk and death. Basically it's got everything that one wants from Rob Zombie. It's simply a super funky groove metal jam with a retro-vibe. Hell, just mentioning "radio" retro-fies it! The bottom line is that it rocks and it's fun. It's the lead single from the album, and is one of the best tracks on it.
"Revelation Revolution" is a solid electro metal jam with some good hooks. It continues the fun vibe started off by "Dead City Radio and the New Gods of Supertown."
"Theme for the Rat Vendor" is a nice instrumental track with Eastern Asian influences that gives the listener a little breather. It splits up the best part of the album in two basically.
"Ging Gang Gong De Do Gong De Laga Raga" is next up and picks right up where "Revelation Revolution" left off. It's a full on stomp loaded with silliness. Yet, it rocks hard. The gibberish of the chorus looks kind of dumb on paper, but really comes off as one of the catchiest lyrics in a long time. I find myself repeating it constantly. It's obviously some kind of evil chant or incantation that Zombie has cursed the listener with. It's not just an earworm; it's an ear death maggot from the grave.
To close out the strongest part of the record, Zombie unleashes "Rock and Roll (In a Black Hole)". It starts off with Casio-tone drum beat and minimal keyboards. Then John 5 lays in a little guitar crunch. Mind that this is only a tease of what's to come. Once the track gets going, it really rocks. The "quiet to loud" element is really a nice addition. Once the heavy part hits, it feels so intense. After this track, the album as a whole lulls a bit. It's really because the previous 4-5 songs are that solid.
"Behold, the Pretty Filthy Creatures!" is a decent jam, but is just a little too busy. It's simply missing a big hook to grab you. "White Trash Freaks" is probably the weakest cut on the album. It's OK, but kind of forgettable.
"We're An American Band" is a strong cover of the Grand Funk Railroad classic. It's totally Zombified and you can tell Rob, John, Piggy and Ginger are having a blast with it. It's really a good sign that these guys are really coming together as a band, and not just hired guns. It's simply a 70's groove hard rock anthem that Zombie does justice to.
"Lucifer Rising" is a solid super fast track co-written by Piggy D. It's not as strong as some of the other tracks, but it works. Additionally, "The Girl Who Loved the Monsters" is a solid slower jam. The album closes out with "Trade in Your Guns for a Coffin." This track really feels like a "color by numbers" song. There's just nothing all that interesting or catchy going on.
The one thing that really stands out on the album is the cohesiveness of the band. They are sounding like a real band. And they sound like they are having fun. Let's be honest, Rob Zombie is pure escapist fun. It's spectacle, but it's a quality spectacle not to be taken too seriously or you miss the point. Zombie still has the sinister urge. And yeah, he does say "Get it on" and "Yeah" a lot! But I wouldn't have it any other way.
Track List 
1. "Teenage Nosferatu Pussy" – 4:34 +
2. "Dead City Radio and the New Gods of Supertown" – 3:28 ++
3. "Revelation Revolution" – 3:10 +
4. "Theme for the Rat Vendor" – 1:02 +
5. "Ging Gang Gong De Do Gong De Laga Raga" – 3:19 +
6. "Rock and Roll (In a Black Hole)" – 4:14 ++
7. "Behold, the Pretty Filthy Creatures!" – 2:55 +
8. "White Trash Freaks" – 3:12 +
9. "We're An American Band" – 3:30 ++++
10. "Lucifer Rising" – 3:19 +++
11. "The Girl Who Loved the Monsters" – 3:56 +
12. "Trade in Your Guns for a Coffin" – 2:10 +