Catching Up With Eric Burdon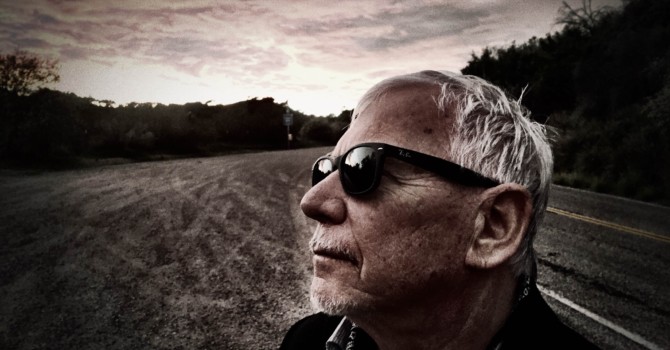 ONLINE INTERVIEW By Crazy G – 7/12/16
THE BAND:
Davey Allen
Johnzo West
Dustin Koester
Justin Andres
Ruben Salinas
Evan Mackey
Greg – First of all, I would like to thank you for taking the time to speak with us at here New England Concert Reviews and welcome. It is an honor. You are back with an album that solidifies Eric Burdon's style throughout time. When did you first think about doing "Til the River Runs Dry" and what is the story behind the album itself?
Eric – The concept began as early as 2000, when I first met my wife, and I started writing the song, "Wait." I was already in the process of doing two other albums, "Soul of a Man" and "My Secret Life." I didn't jump in right away as I felt the need to wait for a more complete concept. Then, when the Katrina disaster happened I was deeply moved to write two new songs, which became the framework of the album. I didn't want to include them on "Soul of a Man," as that was more of a return to the roots of the blues, rather than a strictly personal statement. I did dedicate "Soul of a Man" to the victims of Katrina but that had more to do with the Delta Blues that I was interpreting. Other experiences came into place, such as meeting Mikhail Gorbachev and sharing our concerns about the world and the environment – as well the passing of Bo Diddley. All of these incidents were more personal to me, plus I was approaching the milestone of 70 and reflecting upon my life.
Then, working with the Greenhornes was a spontaneous return to making records the way I started out. That whole process of writing and recording lasted less than 24 hours and led to another big change, more recently, of putting a new band together. Young, energetic and full of enthusiasm. I have to admit that a seed sometimes takes years to take root and 'Til Your River Runs Dry proves it. It took a decade to see it all through to completion. The gestation period can last a long time and then the actual recording time is relatively quick.
Greg – Your new band is comprised of very talented musicians, what was the process like of putting this group together and how easy or difficult was it?
Eric – To me, it is a phenomenon that you can't explain. I was facing a situation where the keyboardist who had been with me for many years, Red Young, announced that he was retiring from the road just a month and a half before I was going to tour in Australia. I realized I had a very limited amount of time to find a replacement for him, never mind to put an entire band together so I used technology to the max and with the help of my management, I started looking at some musicians on youtube. The first one that came highly recommended was the bass player, Justin Andres. While watching his videos, I discovered keyboardist Davey Allen and guitarist Johnzo West, each of them, an artist in his own right. However, I didn't have the energy or the right frame of mind to recognize the potential right away. It was when I walked into the studio, where the band was assembled for an audition, that I felt the energy, the connection, and the vibe and I knew right then and there that I'd found the band I was looking for. Before we were even formally introduced, I stepped up to the microphone and had played and recorded a few songs. It happened very organically. Soon, they were suggesting songs from my back catalog that I hadn't done in years and they were showing an eagerness to try out material I had always wanted to do.
Greg – This cd is truly amazing; one gets many different vibes throughout the entire cd. One song that jumps out is "The Devil and Jesus" How did this song come about?
Eric – I am always acutely aware of the way people use religion to divide us. We're all sinners but some claim to be righteous. We are all constantly struggling to strike a balance between the better aspects of our humanity and the lower impulses. Our duality. Both sides of our nature. The good and the evil. One doesn't exist without the other.
Greg – Another cool track is "Bo Diddley Special" What was it like writing this song?
Eric – Bo Diddley was one of my early mentors. I sang about him on the very first Animals record and we had sent messages to one another throughout the years. Truth is I never met him in person. When his family invited my wife and me to attend his funeral, it was the first time that I came face to face with him in his coffin. Lying there in state, he looked so alive and I swear I felt like I could hear him whisper to me, "Write more Bo Diddley songs!" So that's what I did. The song came very easily after that experience.
All the songs give off this comfortable, calm and soothing feeling. One of them is "27 Forever", one of my favorites off this cd. What was your idea for this song in the beginning?
I was a huge fan of Amy Winehouse and I considered her to be in the league of Billie Holiday. Sadly, she joined that elite club, of those talented people who did not make it past the age of 27.
The isolation that comes with fame and money can result in tragedy if you are not surrounded by people who may have your best interest at heart. Amongst them, my friends Jimi Hendrix, Janis Joplin, Jim Morrison, Kurt Cobain, to name a few. So that song was written for all of them – not only in homage – but to also bring awareness to the new generation of artists.
Greg – "Invitation to the White House" lulls you into loving this song. It is mysterious, bluesy, loveable and totally wild. What gave you the idea for this song or should I even ask? Lol.
Eric – It was a dream…When I first penned this song, I was really concerned about the way things were going at the time and it was reflected in my dreams. I never really received an Invitation to the White House, but in my dream, the newly elected President, Obama, invited me over to discuss the future of the country. I urged him to open up peace talks with our neighbors. Maybe I don't know what I'm talking about. My politics are expressed through my music and I try to bring awareness of issues through my songs.
Greg – What do you think was a key factor in the longevity of your success?
Eric – I would like to say I had some magic formula but the key to my longevity is staying alive and staying true to myself and to my audience. I'm not a faker. I wouldn't know how to if I wanted to. My music, my performance, my life reflects my feelings at the moment. I bounce off of the response of my audience and my longevity is directly connected to their reaction. As long as they're there for me, I will be there for them.
Greg– You were a part of the "British Invasion"; in your opinion. Why was it that British Rock in particular, had such a dramatic influence in music?
Eric – In America, there were powers aligned to eliminate the influence of blacks on white youth culture. We British kids, on the contrary, were in love with the American blues and rock and roll. We didn't have that going against us and the kids in America recognized it when we brought it back to show them what we'd discovered. I believe we took great care not to water it down or lessen its' authenticity.
Greg – Your music has stood the test of time. I still listen to, on a regular basis, "House of the Rising Sun", "We Got to Get Outta This Place", "Don't Let Me Be Misunderstood", just to name a few of my favorites. How did the overwhelming success of these songs impact you personally?
Eric – It is tough for a performer to overcome an early success and keep going. Although House of the Rising Sun is the song I'm most associated with, I don't see myself as a one-hit wonder.
I am fortunate to have many good, solid songs under my belt. From the beginning of my career, I've been blessed by a wealth of great songs finding their way to me, that I truly loved and I have been happy to keep them alive for all these years.
Each of them has meaning for many people and so, I have a responsibility to share them.
Greg – You just hit a milestone birthday, 75, Happy Birthday by the way. As an artist you've embarked on various ventures through the years. In your opinion, is this growth or reinvention? Like David Bowie reinventing himself over the years.
Eric – An artist is naturally drawn to reinventing himself through his work. It is unavoidable. Otherwise, it becomes self-parody or an oldies act. I have always sought to keep it fresh by remaining open to new music, new players, new influences. You mention David Bowie. He was truly a chameleon in rock and roll, unafraid to try new things. I have been singing his "Space Oddity" in a medley with "Sky Pilot" since his passing, in honor of that artistic courage.
Greg – If you were driving down the road and one of your songs came over the radio, do you listen? Do you find yourself critiquing? Do you find yourself getting into the beat? Or do you view it as; I've heard this song a million times?
Eric – I still enjoy the records when I hear them. Some really never get old for me. "Don't Bring Me Down," for example, still leaps out from the dashboard when I hear it on the radio.
Greg – Rolling Stone magazine dubbed you as one of the 100 greatest singers, adding that "of all the British Invasion singers Eric Burdon had the most physically imposing voice". What does it feel like when you get accolades such as that?
Eric – I haven't received a Grammy or a lifetime achievement award or anything like that but thankfully I don't really pay a lot of attention to accolades. I was never a sportsperson, used to winning medals. I was never an Einstein used to receiving honorary degrees. I just do what speaks to my heart and soul and it is nice to be acknowledged.
Greg – You have embarked on a tour for the new cd "Til The River Runs Dry" what can the fans expect to see from this tour?
Eric – As I mentioned, I have a great new band and we're doing a lot of songs I have always wanted to do, in addition to much of the classic Animals and War material, and tracks from 'Til Your River Runs Dry. It's a very satisfying assortment, for me, and we hope, for the audience as well.
Greg – In closing, is there anything you'd like the world to know about Eric Burdon we may not already know?
Eric – There's not much the world doesn't know about me. My life is an open book and simple in its own complexity. If there's anything you want to know, just simply ask.
"Til Your River Runs Dry"
Track Listing
1.Water
2.Memorial Day
3.Devil and Jesus
4.Wait
5.Old Habits Die Hard
6.Bo Diddley Special
7.In The Ground
8.27 Forever
9.River is Rising
10.Medicine Man
11.Invitation To The White House
12.Before You Accuse Me
Photo credit: © Marianna Burdon ('sunset').