Interview with Poison's Bobby Dall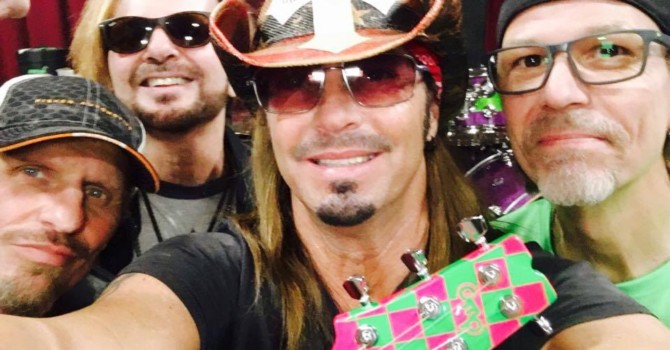 Interview by Ilya Mirman
Def Leppard, Poison and Tesla have just kicked off their 2017 summer tour, with scores of arenas across the U.S.
Poison has just played New Hampshire, and are about to play Mohegan Sun in CT.
NECR caught up with Poison's Bobby Dall to learn more.
It's been a while since you guys toured last – how did this tour come about, why now?
Yep, it's been 4 years since the band played as Poison.  A good enough offer with a good enough package came in that made sense for us all to go back to work.  It's a great package with Def Leppard and Tesla.  So right package, right time, and so it just worked out this year.
On this tour, what are you most looking forward to?
The thing I'm most looking forward to: this is the first year in about 25 years that I've ever played a bass solo.  So I'm learning a new solo this year, and I'm looking forward to that and playing a lot the last few weeks. 
Also, one other thing we're doing new this year is, the band has never done a VIP package together.  First year we're doing this with the entire band, with the original members. It's almost sold out everywhere, so if anyone wants it, you getta get online and get one quickly.
Are there any memories you have of touring in the New England region?
I always love it when we play up in that area.  The Midwest to the Northeast down into the South, and into the middle of the country are our strongest markets.  I know whenever we're up in New England I always get fed lobster a lot, so that's something I enjoy!
Any music projects you're involved with?
You know, I'm one of the blessed people in this world where his first band became famous.  Many an artist don't make it that way, but I'm one of the blessed people in life where my very first band was Poison.  So I really have never done outside projects or played in other bands.  Doesn't mean I wouldn't one day – I have nothing against side projects.
So you don't want to play bass in my Poison cover band?
[laughs] I would enjoy doing that – let me know the night you're playing!
First album you bought with your own money?
Aerosmith's Get Your Wings.  I wore it out!
First concert you attended?
In Orlando, it was the Florida Jam: Aerosmith, Cheap Trick, Ted Nugent, Brownsville Station, Frank Marino, Mahogany Rush, Hoochie, Blackfoot, Pat Travers.
And second concert – Rolling Stones with Van Halen opening! And in that back album cover of Diver Down, I'm somewhere in that photo!
What's the first song you learned to play?
On bass: Iron Maiden's Number Of The Beast.
On guitar: Iron Man by Black Sabbath.
Any favorite TV shows?
To be honest with you, I watch very little TV.  You know, I love the Family Guy series – anything Seth MacFarlane is hilarious.
Musician, living or dead, that you'd love to jam with?
I'm going to shoot for the stars: give me Mick Jagger for the one that's alive, and I'll take Jimi Hendrix for the one that's dead.  And throw in Bonham on drums, and that's my dream band.
If you had to be stuck on a desert island with one member of Poison, who would it be?
For survival skills – Bret.
This one's from my wife: Ever call your wife/girlfriend "Baby Doll"?
No- but I did want to name my kids Ken and Barbie.  And my ex-wife wouldn't let me. They are very happy about that fact!  So they are named Zach and Zoe.