New England Concert Reviews Radio Show – On Air – With Crazy G and WSUR!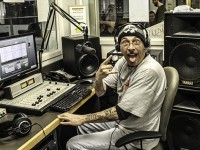 RADIO PERSONALITY CRAZY G n' THE G-SPOT
Now On The Air Broadcasting New England Music News across the net and on the air waves in the greater Boston area.
On air:  Fridays 3PM – 5PM EST
  Call in Number:   1-508-929-8512

---
Brining you New England Music News the latest New England Concert Reviews and Concert Schedules for all of New England. Playing anything and everything; Metal, Rock, Classic and Beyond. It really depends on the mood and the callers, so tune in every Friday and get Crazy with Crazy G n' The G-Spot.
His range in music is broad, like his mind! He has interviewed a variety of artists from many different genres; he also talks about semi important topics. Start your weekends off right and get the adrenaline pumping only on WSUR with Crazy G! Some words from Greg: Here's what you need to know about me. I've been at WSUR for what seems like an eternity. I went to community college on Cape Cod and I am more than proud of my 3 years there. Seafood, Shepard's pie, pizza, tattoos, real clam chowda, code red and the beach makes me content, did I mention I Love Seafood? At one point in life I even worked on a Scallop boat with a bunch of Crazies who thought it was hilarious leaving me 500 miles off shore, I fit right in with them. I love dancing to jingles I hear on the TV and adlib exceptionally well. Making fun of everything is also one of my favorite things to do. I like laughing at almost everything including the news. It makes the world less serious. Oh, and I've been trying to figure out for years why Crown Royal comes in that purple velvet bag. Unless your hands are made of pure diamond, the bottle won't get scratched. It's a waste of good purple velvet that could go into making a cape that I would wear on special occasions. Every piece of property I drive by is a potential recording studio. My skull cap is one of my prize possessions; I've even worn it to bed a few times. Thanks for stopping by!
 
 

 
The Staff
EXECUTIVE STAFF
Greg Walkowiak – General Manager/President
Josh Krusznya – Program Director/Vice President
Mia Koutoulas – Secretary
Chelsea Courtney – Promotions
WSUR DJ's
Drew Woodward
Matt Pinault
Diana Sychtysz
John Bacelis
Eddy Lonzo
Phoebe Mellor
Patrick Myshrall
Evan Penney
Cody Graves
David Germain
Matt Burch
Ian Akdikmen
Mike Shattuck
Salvatore Tecci
Elliot Mercier
Kegan Rogers
Clinton Smith
Josh Vongkhamheuang
Jeremy Abear
John Leary