311 and New Politics at the Blue Hills Bank Pavilion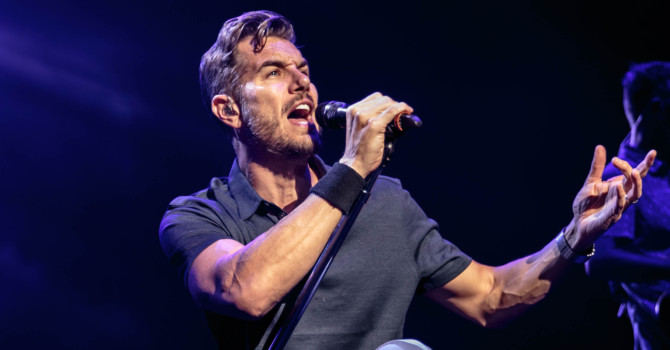 Photos and Review by Jeff Palmucci
Galleries: 311, New Politics
311 stopped by the Blue Hills Bank Pavilion last Sunday on their summer Unity Tour. The tour is in support of their new studio album, Mosaic, released last month.
Openers The Skints kicked off the show at 7 as the venue was starting to fill. They've got an interesting sound that I find it a bit difficult to describe. Electronic reggae maybe? Check out the "This Town" video on YouTube, great song.
By the time New Politics came out, the venue had filled up nicely. They put on an awesome high energy show. Lead David Boyd was nothing less than acrobatic on stage. One highlight of the set was when they played their new single "One of Us". Give it a listen. You won't be able to stop yourself from feeling happy.
Next up was 311. While waiting for the set change, I saw this girl and her daughter dancing on the sidelines. The little girl's t-shirt was hilarious.
311's style is reflected in their choice of opening acts. An interesting mix of reggae and alternative, with a little hard rock thrown in every once in a while for good measure.
The set list was a mix of a little less than half of music from the new album mixed with older stuff. In fact, one of the new tracks, "Inside Our Home," made it's live debut. Also off the new album, one of my favorite new tracks "Too Much to Think".
In the middle of the set, drummer Chad Sexton put on an incredible drum solo, with the entire band joining in towards the end. They even pulled off a couple of fancy stick tossing moves, throwing the sticks between each other in the middle of the medley. Looked pretty fun.
These bands put on a great night of music. A bit of reggae and a bit of rock. Check them out when they come to your town.
311
New Politics