Aesop Rock at The Met – Pawtucket, RI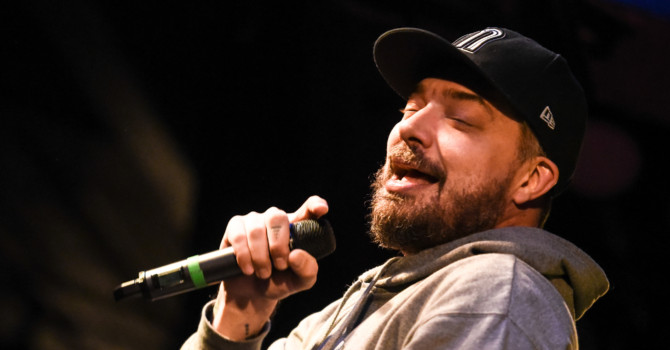 Photos and Review by Bethany Anna Packer
Show photos HERE
Aesop Rock first peaked my interest when I heard "Facemelter," back in the days when Myspace was the place to be. I was fascinated by the lyrical genius delivered by the Brooklyn-turned-Portland underground hip-hop artist. Aesop is known for his insanely extensive vocabulary, once deemed by a study to be the largest in rap music.
In 2007 he released his fifth full-length album, None Shall Pas. The album received rave reviews from critics and fans, applauding Aesop for his change in sound. The title track is still one of my favorite hip hop songs to date. It was then that I first saw the indie rap artist live and was instantly memorized by his ability to effortlessly deliver his complex lyrics to a crowd.
In February 2016, Aesop Rock released a music video for the song "Rings" and announced his seventh studio album The Impossible Kid. I couldn't wait to hear the album after getting a taste of the dizzying beats paired with meaningful lyrics that hit me in the feels as an artist.
When he set off on tour supporting The Impossible Kid, I knew right away that this was a show that wasn't to be missed. Apparently I was not alone, as the Met was completely packed to the gills awaiting Aesop Rock to take the stage. The crowd was a great one, everyone exuding positive vibes and good energy. The rapper took the stage joined by friend and musical wingman Rob Sonic and backed by the rib rattling beats and synth abstractions of DJ Zone.
From the first beat of "Mystery Fish" the audience was fully engaged, hanging on each word as it flowed into the next. The incredible 29 song set list started with my three favorite tracks from The Impossible Kid, "Mystery Fish", "Rings" and "Lotta Years". The group on stage worked together seamlessly, delivering a flawless performance. Aesop's stage presence is light and fun and he and Rob had the room laughing between songs, cracking jokes. They appeared truly grateful for the turnout of loyal and loving fans.
As the set went on, Aesop Rock with Rob Sonic by his side played almost all of The Impossible Kid in it's entirety including older tracks like "No Regrets" from 2001 and "Homemade Mummy" . They peppered Aesop's work with Rob Sonic covers like "Alice In Thunderdome" and a few Hail Mary Mallon covers such as "Whales". "None Shall Pass" was brilliantly left towards the end and the crowd hungrily devoured every lyric that was fed to them.
As the night wrapped, Aesop was joined on stage my opener Homeboy Sandman for a 3 song encore.
It has been almost a decade since I last saw Aesop Rock perform live and it was better than I remember. He is a reminder that there are still genuine old school hip hop artists out there that have much more to speak about than money and "hoes", one of the best in the game and in my opinion better than ever. Can't wait to see him perform again.