Allman Brothers Band: Orpheum Theatre.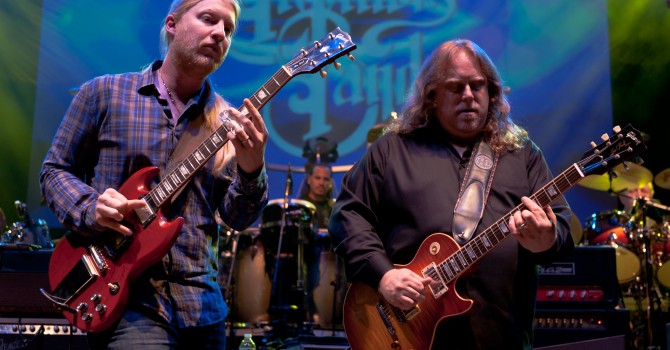 Boston, MA. December 3, 2011.
Review by King Dale.
Blues Enthusiast.
Photos by Micah Gummel.
Across the street from Boston's historic North Church, the Allman Brothers completed a four night stand at the Orpheum Theatre. One of Boston's oldest venues, it is where they recorded part of their 1992 live album, "An Evening With The Allman Brothers Band (Live).
They came out of the gates smokin' and they tore into "Hot'lanta". You could feed off the energy in the crowd. This was only the sixth show of this brief tour, and I was amazed by how tight they were, right on key. They sounded great!
As they were playing Dr. John's "I Walk On Gilded Splinters", Brothers Gregg and Warren Haynes' vocals were outstanding. This song has become a staple for Allman Brothers live shows in the past few years and I can see why. The crowd responded to it well, as the capacity crowd was up on their feet, shaking what they got, and so was I.
Then it was on to the blues. I always love their version of Muddy Waters' "Trouble No More". It sounded every bit as sweet as it did in 1969 when they first recorded it. Gregg's vocals were strong tonight. He put it all out there on "Come And Go Blues", a song he wrote for the album "Brother & Sisters", which was originally released in 1973, and reached number one on the Billboard Top 100 Albums for that year.
Warren Haynes followed with a strong vocal performance on "The Sky Is Crying'". A lot of people have covered this great song by Elmore James , but tonight it belonged to Mr. Haynes, and he certainly made it his own. You could feel the emotion in his singing. He definitely dug deep for this one, but I must say Derek Trucks' solo on this song was one of the highlights of this evening. After he completed it, the crowd went absolutely nuts. They cheered so loud, you couldn't even hear Warren's vocals as he started the next verse.
After returning to their roots with "Every Hungry Woman", they played a new instrumental called "Egypt", which first appeared in this year's Beacon run. It's a great song for the boys to show their stuff, and they certainly did just that.
One of the biggest surprises of the first set was a pretty sweet, bluesy rendition of Bob Dylan's "All Along The Watchtower". The crowd seemed to really get into it, as the Brother stretched it out and had some fun with it. I think Mr. Dylan would have enjoyed it too.
Once they started playing "One Way Out", I knew right away that this was the closing number for the first set. Everybody was on their feet, flowing to the groove of the music. What a great atmosphere, and when Gregg was looking for audience participation, everyone joined right on cue.
After a brief intermission, the band came back on stage. I could hear Gregg thumping on an acoustic while he check his tuning. As he stood center stage, he started strumming the opening chords for "Melissa". A song he often like to play live, because it was one of his brother, Duane's favorites, as well as the crowd's. While Gregg was singing with passion, everyone in the house was singing along with him.
We revisited the old "Idlewild South" days with an inspiring "Revival", which had everyone on their feet. I'm glad the Brothers still continue to play some of Dickey Betts' songs. His contributions to this band should never be forgotten. Once a Brother, always a Brother.
After Gregg and Warren sang their hearts out on "Gambler's Roll" and "Into the Mystic", they followed with the strong, hard-driving beat of "Sailin' Across The Devil's Sea". It's definitely one of Gregg's best pieces of work in recent years, and a great song to play live. If this song doesn't get you moving, you might as well be considered dead.
Now it's star time. Originally the Allman Brothers would play "Mountain Jam" live to showcase Brother Duane's slide playing prowess. Today, those shoes are being filled by a modern day guitar hero by the name of Derek Trucks. Derek was recently selected number sixteenth on Rolling Stone magazines Top 100 Guitarists of All-Time. (Duane holds the number nine spot, and well deserved too.) I had the pleasure of meeting Derek a couple times and he seems like a great guy, very humble and down to earth. I could go on all day about him, but luckily, I don't have to. I hear there's a book in the works. The band craftily wrapped the traditional "Mountain Jam" around Howlin' Wolf's "Smokestack Lightnin'". Led by Warren, the Brothers took us back to the south side of Chicago, where this great music was founded, and continues to thrive today. As they wrapped up the second set, the crowd was on their feet cheering with great enthusiasm and we weren't letting up until the came back out for an encore.
When they came back out, all who appeared were Derek, Warren and Marc Quinones on percussion. With Warren playing acoustic and singing lead, they played John Lennon's "Working Class Hero", which definitely reached this Boston crowd.
This was my six time seeing the band, and every time the song "Whipping Post" seemed to elude me, but not tonight. As Oteil started hammering out the familiar bass line, I went absolutely nuts! This was definitely one of the best shows I've ever seen them perform. What a great set list!
If you weren't lucky enough to attend one of these shows, you can still enjoy the music. The Allman Brothers Band records all of their performances. You can purchase them at hittinthenote.com.
Set 1
Hot 'Lanta
I Walk On Gilded Splinters
Trouble No More
Come and Go Blues
The Sky is Crying
Every Hungry Woman
Egypt
All Along the Watchtower
One Way Out
Set 2
Melissa
Revival
Gambler's Roll
Into The Mystic
Sailin' 'Cross The Devil's Sea
Mountain Jam – Smokestack Lightning – Mountain Jam
ENCORE
Working Class Hero (with Warren Haynes, Derek Trucks & Marc Quinones only)
Whipping Post