Anthrax and Killswitch Engage at the Oakdale Theatre – Wallingford, CT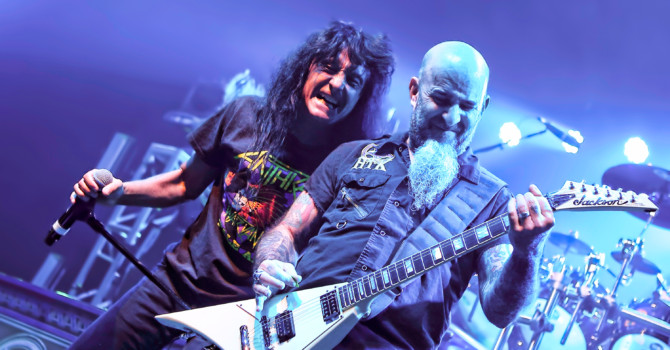 Review and Photos by Tom Bogus
Galleries: Anthrax, Killswitch Engage, The Devil Wears Prada
The most anticipated springtime metal show rolled through the Oakdale theatre in Wallingford, Ct. on April 4th 2017. The Co-headlining Killthrax tour features Anthrax and Killswitch Engage along with supporting acts The Devil Wears Prada and Jasta (3/29-4/09).The night started promptly at 6:45 when Jasta took to the stage for their 20 min set. Unfortunately I missed a majority of Jasta's performance due to access issues. The Devil Wears Prada was next. Their set was dark, loud and aggressive. Opening with their song "Daughter" from the their most recent release "Transit Blues" which they are touring in support of. With only 40 minutes of stage time, TDWP ripped through 9 songs. It was a constant steady flow of new and old. They closed their powerful set with "Mammoth"
Next were thrash metal pioneers Anthrax. Joey Belladonna (vox), Scott Ian (guitar), Frank Bello (bass), Jon Donais (guitar) and Charlie Benante (drums) set out to put on a hell of a show. All hell broke loose when the opening riff for "Among the Living" began to play. This was followed by 75 minutes of good ole American thrash metal. Anthrax catered to all fans of all ages by playing hits from across their lengthy catalog of 35 years. They played early stuff like "Madhouse" and "Caught in a Mosh" to newer stuff like "Evil Twin" and "Breathing Lightening." I'm sure it was quite a task trying to figure out which 13 songs to pick for the setlist from so many hits. They closed their set with an extended version of "Indians".
Killswitch Engage hit the stage in a fury, opening their set with "My Last Serenade" off the "Alive or Just Breathing" release. A pit opened right up and the crowd surfers started as soon as the song started. KSE barreled through song after song with a couple pauses here and there. Their 17 song set included new songs "Hate by Design" and "Strength of the Mind" as well as fan favorites "Rose of Sharon", "My Curse" and "No End in Sight"
Adam Dutkiewicz (guitar) was running around stage like a mad man the whole set. At one point he left the stage and run into the woman's bathroom, then to the bar and back to the woman's bathroom all in mid song and he was still playing. Adam D is known for his stage antics and unique stage attire. Adam may have been hopped up on sugar because it was his birthday. The band had a cake brought on stage and a guy to strip for Adam. The guy was wearing 7 shirts and he took them off one by one and threw them at Adam. Thankfully, that is all the clothing he shed. Killswitch Engage ended the night with their Grammy nominated song "In Due Time"
KSE's performance was aggressive and energy filled. They definitely brought their A game to the Oakdale. In fact every band that played on that stage that night brought their A game. This tour is on the road til May 7th. I recommend catching it before it ends.
The Devil Wears Prada
Daughter
Sailors Prayer
Planet A
Outnumbered
Worldwide
Assistant to the Regional Manager
Dead Throne
To the Key of Evergreen
Mammmoth
Anthrax
Intro
Among the Living
Caught in a Mosh
Madhouse
Fight 'em
I am the Law
Breathing Lightening
NFL
Evil Twin
March of the S.O.D
Blood Eagle Wings
Antisocial
Indians
Anthrax
Killswitch Engage
The Devil Wears Prada