Avenged Sevenfold at Foxwoods Casino – CT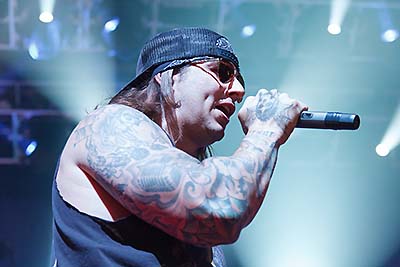 Photos by Robert McDonald
Review By Robert McDonald
Show photos HERE
Friday night at MGM Grand Theater was host to one of hottest hard rock bands of the last decade, Avenged Sevenfold. This was one of the final shows of a short mini tour after emerging from the studio and before kicking off the global tour in support of their new album "Hail to the King".
The band was sporting some new looks including M Shadow's uncharacteristically long hair to Syn's long hair and shaved side carriage, but the heart-thumping, guitar-shredding sound was all too familiar to the thousands of rabid fans in attendance.
Opening with Critical Acclaim,the band quickly moved in to the fan favorite, Beast and the Harlot where M treated the fans to some fancy footwork, but the biggest treat came next.  In a surprise announcement, the band announced that after spending the last two years as a session and touring member, Arin Ilejay was now an official member of the band. What better way to celebrate then to launch in to Welcome to he family.
Later,in the middle of Almost Easy, M abruptly stopped the show to ask for a fight to be broken up in the front , but to the crowd's delight after the two were separated M simply started the song over from the beginning without any further incident.  If that wasn't enough, one lucky fan had a night to remember when M noticed his sign and asked him on stage to sing Chapter 4 to the highly supportive crowd.
After such a raucous night, I can't help but think the MGM Grand Theater, which is more accustomed to acts like Huey Lewis and the News and Lionel Ritchie will never quite be the same.
Setlist 
Critical Acclaim
Beast and the Harlot
Welcome to the Family
Almost Easy
Buried Alive
Fiction
Nightmare
Hail to the King
Afterlife
Chapter 4
Encore
Bat Country
Unholy Confessions