Avenged Sevenfold at the BB&T Pavilion – Camden, NJ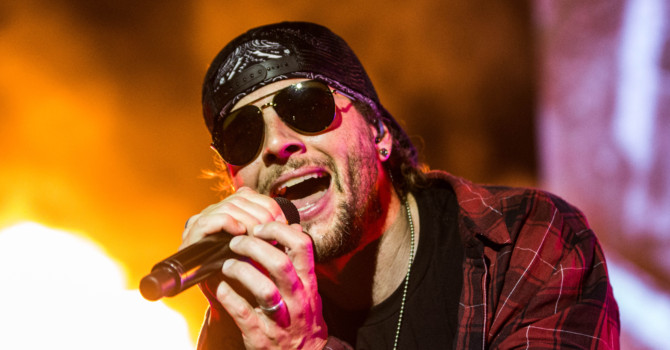 Photos and Review by Kate Drexel
Galleries: Avenged Sevenfold, Everlit
Avenged Sevenfold played a free headlining sold-out show at BB&T Pavilion in Camden, NJ on June 21. This was to make-up for backing out of their opening performance with Metallica in Philadelphia on May 12, due to the fact that their lead guitarist Synyster Gates had to fly back home for the birth of his first born son. The only opening support for this show was local band, Everlit—selected by Philadelphia's rock radio station, 93.3 WMMR, as part of a contest to see which band would open up for Avenged Sevenfold.
The venue started to fill up more and more as the warm beautiful summer sky eased into darkness. Without further hesitation, AC/DC's "Back in Black" took over the speakers and the venue was soon enveloped into blackness. Then the LCD background behind the drum kit displayed a mesmerizing galactic background. The first of Avenged Sevenfold to emerge onto the stage was drummer Brooks Wackerman, followed by bassist Johnny Christ; rhythm guitarist Zacky Vengeance; Synyster and finally the front-man M. Shadows. They immediately kicked off the night with "The Stage," the title track from their most recent album released in 2016. They proceeded with "Afterlife" and after wishing a fan happy 21st birthday, they continued with "Hail to the King" and "Paradigm."
The fans sang along, almost drowning out the band as they played "Buried Alive." They put up their lighters and cell phones as Avenged Sevenfold proceeded with "So Far Away," accompanied with a montage of photos of their deceased and beloved drummer The Rev. A truly heart-warming yet heart-breaking moment. They then picked up the pace with "Nightmare" and their current single "God Damn," followed by a drum solo from Wackerman. After "Almost Easy," "Sunny Disposition," and an instrumental version of "Warmness of the Soul," Avenged surprised the crowd with a large astronaut being suspended from the ceiling, accompanied with a galactic background on the LCD screen, a perfect combination for their next song "Planets."
After "Acid Rain," the band left the stage and the venue was once again enveloped in darkness, a strong hint of an encore on the way, especially with the fans chanting "one more song!" and "encore!" Surely enough, they came back to play "Bat Country" and right before "A Little Piece of Heaven," a couple was brought on stage as the boyfriend got down on one knee and proposed to his girlfriend, to which she said yes. Talk about a memorable proposal! Avenged Sevenfold then ended the night with "Unholy Confessions," leaving the fans with giant grins plastered on their faces.
Overall Avenged Sevenfold more than made up for their cancellation back in May. They will continue touring with Metallica this year and have announced a headlining tour for early 2018. Be sure to check their website and social media for future tour dates, you do not want to miss out on an Avenged Sevenfold show.
Avenged Sevenfold
Everlit