Awolnation at the Strand – Providence, RI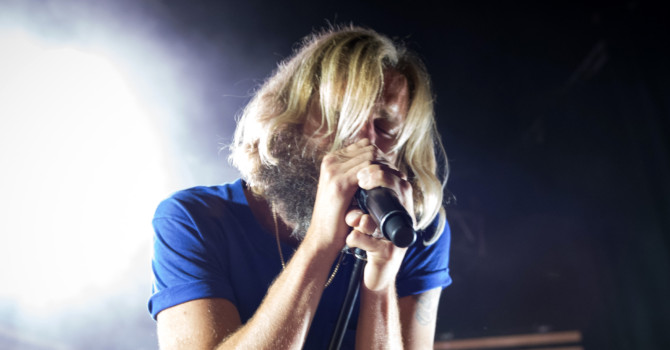 Photos and Review by Bethany Anna Packer
Galleries: Awolnation, Irontom
AWOLNATION arrived in Providence last Thursday to a smaller than expected crowd. The
California based alternative rock band has been traveling around the nation in support of their third album, Here Come the Runts which was released earlier this year.
Leading off the night was Irontom. The exuberant indie rock outfit features Zach Irons, AWOLNATION's own guitarist who also happens to be the son of the former drummer of Red Hot Chili Peppers and Pearl Jam, Jack Irons. Lead singer Harry Hayes' quirky and eccentric antics had fans intrigued, and as fans piled into the venue for the headliner they were instantly captivated by the band.
By the time AWOLNATION took the stage, the small crowd had doubled in size and the energy had as much a quadrupled. The band came out ready to perform as captivating front man Aaron Bruno took to the brightly backlit stage dancing and moving to the beat of the new album's title track "Here Comes The Runts". The group continued on to play a set list which included a majority of tracks from their new album, peppered with older favorites like "Kill Your Heroes" and "Not Your Fault" from their debut album Megalithic Symphony. Also the title track of their 2015 release "Run", as well as a badass face-melting instrumental cover of AC/DC's "Thunderstruck" delivered by guitarist Zach Irons.
This group never missed a beat, the group worked together seamlessly, playing off of each other and the audience. The group's dazzling stage production only adding to the greatness. AWOL closed out the evening in Providence with a three-song encore which, to fans delight included their breakout hit "Sail". And as I swayed along to the music with the audience we all wished the night could go on. Overall, the show was what we've come to know and love from this amazing band.
AWOLNATION
Irontom