Barry Goudreau's Engine Room / John Cafferty and the Beaver Brown Band – Melrose Memorial Hall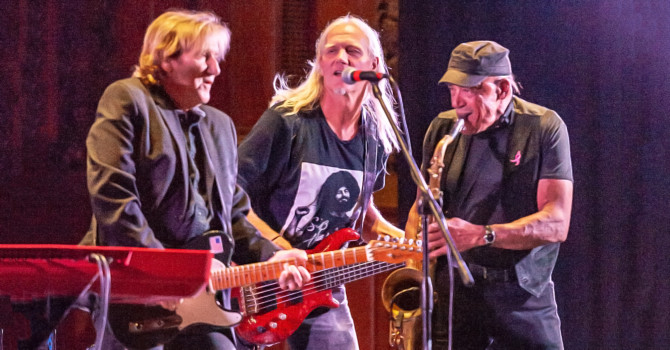 Photos and Review by Colleen Goyer
Show photos HERE
Melrose Memorial Hall was the venue for a benefit concert for veterans with PTSD performed by Barry Goudreau, former guitarist for Boston and his band, Barry Goudreau's Engine Room along with John Cafferty and the Beaver Brown Band.
Goudreau started the evening with a mix of songs from Boston and his other projects. Engine Room's keyboardist, Brian Maes, also provided the lead vocals.
It was an evening that combined good new music, classic hits and a good cause. The classics brought back many memories for the audience, including me, having listened to much of this during college. There was even enough room in the venue for many attendees to get up and dance, and many did.
Engine Room bassist Tim Archibald played up to the audience and moved around the stage to engage with all the other musicians showing a little of that rocker personality.
Goudreau performed the guitar solos while engaging with the crowd. In contrast to the bassist, he had a very cool vibe.
For roughly the last quarter of the concert Cafferty and the Beaver Brown Band joined on stage performing some of their hits. Saxophonist, Michael Antunes (who was awesome), assisted with vocals. Goudreau and Cafferty played side by side and provided a great evening of music and memories.
Both Goudreau's Engine Room and John Cafferty and The Beaver Brown Band are touring. Watch for them. Goudreau's Engine Room also has a new release from last year out, Full Steam Ahead.