Billy Joel at Fenway Park – Boston, MA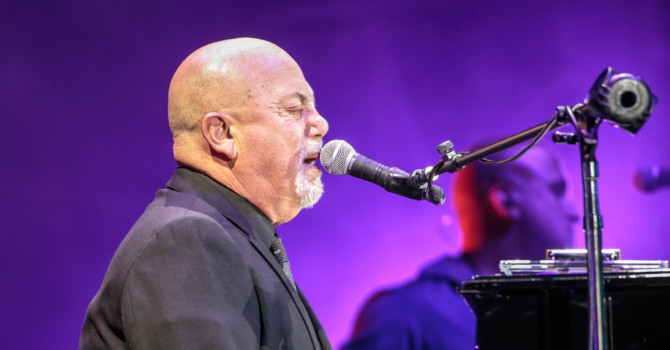 Photos and Review by Jeff Palmucci
Fenway freakin' Stadium. I finally got to shoot a show there. Seeing a concert at Fenway is something special. Not only because just the most popular performers get to play there, but because the sheer number of people that get crammed into that place. It lends an intense energy to the experience. Even if you are up in the nose-bleed section, there are tens of thousands of people alongside you that love the same music you do.
However, this wasn't just any show either. It was Billy Joel. I've been a Bill Joel fan since before most of you were born. Hell, I've been a Billy Joel fan almost since before I was born. There were many people in the same boat as me, as evidenced by the sold out crowd.
As he opened the show, he immediately laid out what we were in for. "We don't have any new shit. It's the same old stuff." He was answered by huge applause. After spending a couple of minutes taking a swipe about other older acts that spend a ton of time on new, uninteresting releases, he broke into said old stuff.
The show had a laid back, conversational feel to it. Joel frequently offered the audience the choice of what they would play next. Sometimes the audience didn't break his way. When offered the choice between The Ballad of Billy the Kid and Longest Time, the crowd overwhelmingly went for Longest Time. "Shit" was the response. Sorry Mr. Joel, I was yelling as loud as I could.
In addition to pulling from hit vast array of hit music, they played several covers including the Beatles (Sgt Peppers), and the Eagles. At one point he introduced another cover. "A religious, spiritual song," he said. Then he invited this guy "Chainsaw" up to sing AC/DCs Highway to Hell. I had no idea who this guy was, but after a little googling, turns out that he is one of Billy's guitar techs that gets invited onstage quite often to cover Highway to Hell.
The show was incredible and I'm glad that I got not only to see it, but to photograph it. Unfortunately, they put the photogs off the the side of the stage behind a stage strut, and none us were able to get any reasonable shots. I was hard pressed to get the photo above. Oh well, I'm not worried. I'll be back!