Blondie and Garbage at the Blue Hills Bank Pavilion – Boston, MA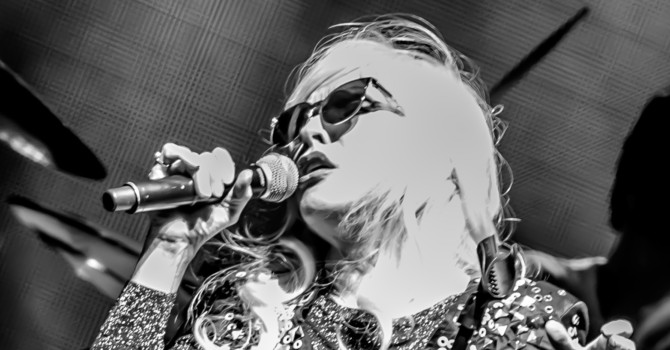 Photos and Review by Jeff Palmucci
Show photos HERE
Usually, when I tell my wife who I'm going to shoot in an upcoming show, her responses range from the benign "Who?" to the somewhat less benign "Ugh, when are you going to act your age?" [1]
Not this time. When I told her that I was going to the Blondie and Garbage show her immediate response was "get me tickets!" After a couple of flurried texts, we wound up with a crew of 5 going to the show. We even were able to score 3rd row seats. (not cheaply!)
In terms of ease in getting to the show, that put us solidly in the win column compared to Garbage. Apparently after several bus breakdowns, the band was still not sure they'd make the show at 2am the previous morning. However, even after that hell trip, the band managed to put on a great set. Four out of the fifteen song set was from their most recent album Strange Little Birds, with the rest devoted to past hits. These included my wife's self proclaimed theme song, "I'm Only Happy When It Rains", and some of my favorites "Stupid Girl" and "I Think I'm Paranoid". Ironically, Manson took a stroll through the crowd during "Paranoid".
During a break in the set, Manson talked about the tour and what an inspiration Debbie Harry was to her as a female role model. Her heartfelt speech was not gushing she deliberately noted, saying why is it anytime a female pays a compliment or tribute to another female, they are gushing?   Manson went on to say how Harry's exemplary career encouraged other female performers to take risks and to believe in themselves.
Blondie was up next, and came out strong with "One Way or Another". Debbie Harry arrived wearing a "STOP FUCKING THE PLANET" cape, along with a bee headdress in reference to their newly released studio album Pollinator. The set was heavy with tracks from the new album, but also covered a lot of their past hits: "Heart of Glass," "Call Me," "The Tide is High," "Atomic," and others.
At one point during the set, Harry initiated a Bob Dylan sing along with "Everybody Must Get Stoned".
I know this may piss her off, because I've seen her complain about this online, but I have to say it. Debbie Harry is 72 years old and definitely does not come across that way on stage. She was very active on stage, and could still hit all the notes.
It was pretty fantastic not only to see these bands, but to be able to be there with my wife and friends. I think everyone had a good time, and it wasn't even raining.
PS I apologize to the Garbage fans out there. I did not get a photo pass for their set, so no photos for you.
[1] Never!