Bowling for Soup at the Brighton Music Hall – Boston, MA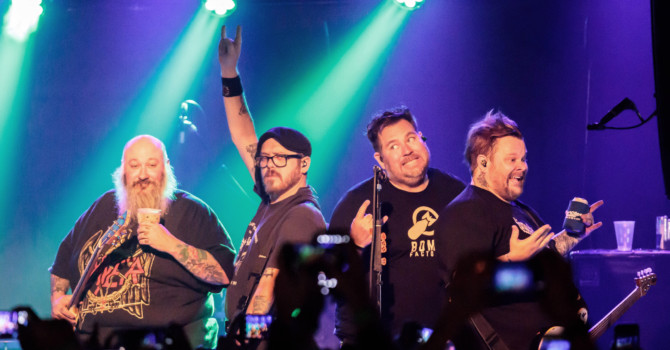 Photos by Jeff Palmucci
Show photos HERE
I almost got drunk at school at fourteen,
Where I almost made out with the Homecoming Queen,
Who almost went on to be Ms. Texas,
But lost to a slut with much bigger breastests

— Almost by Bowling For Soup
Bowling for Soup played a sold out Brighton Music Hall in Boston last week. BFS shows are always a fun time, but this was something special.
Why always a fun time? Because the band is as funny and entertaining on stage as the irreverent and often hilarious lyrics to their songs. Check out the song quote above. Funny, and offensive to both feminists and English teachers.
However, you may be asking why this show was something special. Well, in the middle of the show they call this guy, Sam, up to the stage with his girlfriend. Unfortunately, Sam is outside having a smoke, so his girlfriend rushes outside to grab him. Smooth, Sam.
Anyways, they finally get to the stage, and Sam gets the band to start playing. Then, he goes down on one knee and proposes! Awww… cute!
After the song ends, Sam turns to the band and happily declares: "She said yes!" Jaret immediately comes back with "To what? Anal?"
The whole night is filled with fun moments like that. The band is always cracking jokes and having a great time on stage, and it's infectious.
The tour is in support of their newest studio album "Drunk Dynasty". There weren't a ton of songs from the new album on the setlist, but these guys have been at it for 22 years. They have a large amount of music to cover.
Of course, at every show they play Stacy's Mom, and at every show they go through great pains to point out that it is a Fountain's of Wayne cover. I think they are still working through some guilt issues. I linked to the original. Maybe that will help.
This is my third time seeing BFS in the last few years, and I will keep coming back. It is just too fun to miss.
Setlist
My Hometown
The Bitch Song
Emily
Ohio
High School Never Ends
Hey Diane
Phineas and Ferb
Turbulence
My Wena
Last Rock Show
Punk Rock 101
Stacy's Mom (Fountains of Wayne cover, really)
Since We Broke Up
Almost
Shut Up and Smile
Girl All The Bad Guys Want
1985
Two Seater
Belgium