Brubeck Brothers Quartet at Shalin Liu Performance Center – MA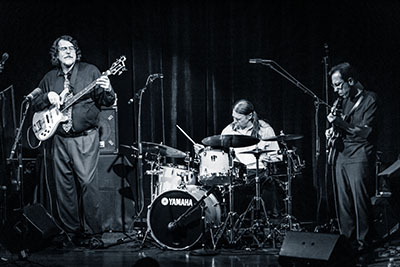 Photos and Review by Ilya Mirman
Show Photos HERE
Carrying on the tradition begun by their legendary father, The Brubeck Brothers Quartet (BBQ) takes jazz into new, dynamic dimensions.  The foursome is fronted by Brubeck brothers Chris (bass, trombone) and Dan (drums), and rounded out by guitarist Mike DeMicco and pianist Chuck Lamb.
Both Chris and Dan spent much of their younger years recording and touring as the rhythm section for their father Dave Brubeck's various combos, acquiring the experience and confidence to start their own band in 1999.  Since forming, the BBQ have released several critically-acclaimed albums, the most recent being last year's Lifetimes, a tribute to their father's compositions.
Although the quartet's style is rooted in "straight-ahead" jazz, their concerts reveal an inherent ability to explore and play odd time signatures while naturally integrating the influences of funk, blues and world music.  The group's creativity, technique and improvisation can be heard in their uncompromising music – music that reflects their dedication to melody, rhythm, culture and the spontaneous spirit of jazz.
On the current tour, the BBQ are performing a Tribute to Dave Brubeck, where the quartet interprets and explores both the well-known and lesser known tunes from their father's extensive catalog.
Throughout the nearly 3 hour set, Chris took the time for humorous and powerful storytelling that provided insights into one of the most celebrated jazz musicians on the planet – on topics ranging from Dave Brubeck's philosophy, work ethic, travels and collaborations, and hospitality.
One thing that struck me, was that the WAY that they played Take Five truly reflected such a tribute to Dave. Not only did they perform with their whole hearts, but at one point, DeMicco and Lamb silently slid off to the side of the stage, leaving only Chris and Dan on stage. To watch these two brothers meld their sounds, absolutely illustrated that while the music played in the hands of masters harkens back to an earlier time, it also feels current, infused with the passion and energy of the band.
Chris was spectacular throughout the night, and seemed to particularly shine during this performance, as if channeling his father.  Dan's heartfelt appreciation for the music, his father, the opportunity to pay this tribute came pouring out of him in one of the best drum performances I've seen in my life. You could hear it. You could feel it. You could see it, with a range of emotions on his face.  Once Lamb and DeMicco returned to the stage, the full quartet blended together to bring the song to a close bringing the audience to their feet in thunderous applause.
There is no question that if Dave was looking down last night, he would have been incredibly proud of his legacy. His sons. His music. Still captivating an audience. What a gift he left for us all.