Butcher Babies at the Palladium – Worcester, MA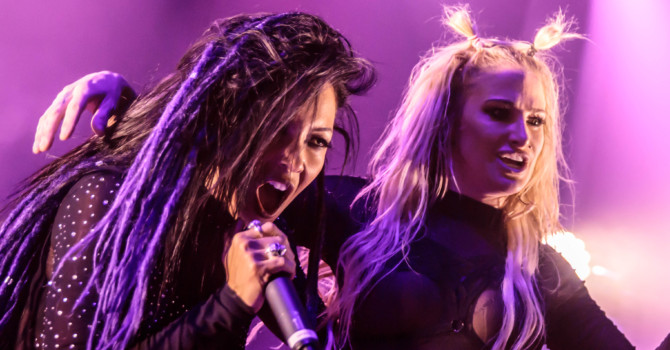 Photos and Review by Jeff Palmucci
Show photos HERE
The Butcher Babies opened up for the Hollywood Undead at the Palladium last week in Worcester. They are playing in support of their new album Lilith, that came out exactly one month ago.
Judging by my unscientific technique of checking out the top artist hits on Spotify, the album is being very well received. A full 3 out of the top 5 slots are taken off the new album including: "Lilith," "Headspin," and "Burn the Straw Man." I especially like Headspin if you are looking for some new BB music.
I love the way this band sounds. Most female led metal bands have a much more mellow sound. Not the Butcher Babies. Although they do have some clean lyrics, most of the songs are done in a harsh throaty style that gives these ladies a unique sound.
On top of all that, they put on a great show. I mean come on. Two beautiful women belting out intense metal while actively engaging the crowd from the stage (and in the front row). What's not to like?
There was a point in the show where I made an embarrassing mistake while photographing Carla. I had a very wide lens on for dramatic effect and didn't realize how close I was while taking the shot. She brushed me back with her hair. Sorry about that Carla. Personal space! Did make a cool shot though.
The Hollywood Undead were up next. Unfortunately, I wasn't able to get a photo pass for them. Now I really like these guys and was pretty disappointed. Not proud of what I did next. It was the day before Thanksgiving and I had a ton of people coming over, so I got up and left. Pretty unprofessional of me. Then again, f-it. I don't get paid for this.