Chris Trapper at the River Club Music Hall – Scituate, MA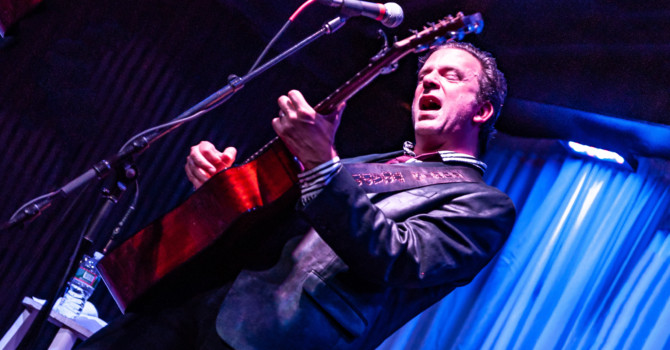 Photos and Review by Colleen Goyer
Galleries: Chris Trapper, Sara Borges
Chris Trapper, a singer songwriter based in Boston, performed at The River Club Music Hall in Scituate MA on the 1st of June. Sara Borges, a singer songwriter from Taunton Massachusetts, opened performing her mix of country and rock. Both performed solo providing both vocals and skilled guitar playing for their own music as well as mixing in some funny stories about their touring, careers, and family.
Chris has had a successful songwriting career, with many of his songs used in movie and television soundtracks. He was the lead singer of The Push Stars in the '90's and has performed and released several discs as a solo artist.
Chris' music is a mix of country and rock. His guitar playing style includes a percussive element suited for solo performances. Throughout his set he told stories about the songs providing a glimpse into his thoughts and creative processes. His cool, confident persona and comical anecdotes make him a very enjoyable solo performer. He performed songs from his solo career as well as ones that have been used in movies such as There's Something About Mary. Chris called Sara out to provide harmonies on one song and their voices blended very well.
The venue is a very intimate setting perfectly suited to this type of performer. Chris is headed to the west coast to continue the tour.
Chris Trapper
Sara Borges