Clutch at the State Pier – Portland, ME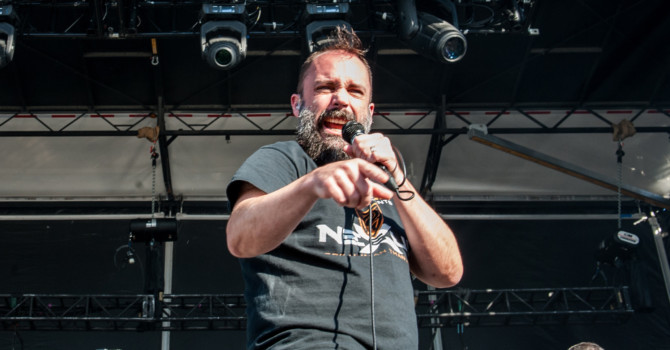 Photos and Review by Dave Nebbia
Show Photos HERE
The more I attend this venue, the more I really like it. From the ease of entry, the VIP area to the right and back, etc.,… they do a nice job getting you in and comfy. This was an early show, so when Clutch was just about to come on, it was just perfect weather wise, and being right on the water didn't suck.
Clutch comes on to a great welcome. I have seen them 3 times now, and was really looking forward to seeing them supporting their newest record, "Psychic Warfare" There's a few tunes on the new record that I really like.
The first song of the night was  "Promoter"… what a way to come out. Neil Fallon was great right from the start. Always a high energy guy and he didn't disappoint. Although it looked like it was noon outside, it still felt like a dirty kick in the teeth rock show from the boys. They plowed through some old favorites like "Passive Restraints" and "Cypress Grove" before getting into the first new tune of the night, "How to Shake Hands". With Tim Sult on guitar, just as solid as ever, steering the great rhythm section of Dan Maines on Bass and Jean-Paul Gaster on drums… it's hard not to just love this band.
Up came, another new tune… "A Quick Death in Texas". For me, this one is my favorite of the new record! Buzzing through some classics and a few more new tunes, the energy just kept going. Its great to see the Portland crowd really stand behind them and get into it.
Since it was just Clutch and Primus that night, they were able to play a pretty long set. Primus gave the lads their due time on stage. Their set ended with A Shogun Named Marcus, Electric Worry, and X-Ray Visions, you are still left wanting more. A great set by the band and it was great seeing them just kill it! Love me some Clutch, and you should too!