Dashboard Confessional and the All-American Rejects at Blue Hills – Boston, MA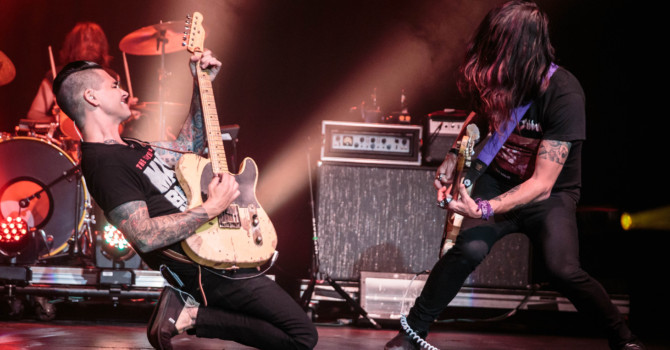 Photos and Review by Jeff Palmucci
Galleries: Dashboard Confessional, The All-American Rejects
So who's ever listened to "Gives You Hell" from the All-American rejects and felt a guilty pleasure while thinking about an ex-girlfriend. Come on, you've done it, admit it. I can't be the only one out there! The comments on the YouTube page above certainly seem to suggest so, though they can get pretty dark and stalky.
They used it to close out their set last Sunday at the Blue Hills Bank Pavilion while on tour with Dashboard Confessional.
Blue Hills was packed that night, and the crowd was pretty excited. Lead Singer Tyson Ritter was engaging, joking about the relative age of the crowd while playing some of the older stuff. "Sure you were listening to these in your dorm room, or your rooms at home."
They put on a great set, and the crowd was obviously into the music, with couples hugging and smooching during "Mona Lisa", and everyone singing along to "Move Along".
Another popular track was the wildly popular "Sweat", one of the couple of newly released tracks that have been dribbling out while leading up to their new upcoming studio album.
Dashboard Confessional was up next, and one moment convinced me that lead Chris Carrabba is genuinely a nice guy. During the first part of the set, while introducing the other band members, he talked pretty extensively about other touring members side projects. It's to be expected that there's a bunch of side projects going on. They haven't come out with new music since 2009's Alter the Ending. However, it looks like the wait may be ending. They played a couple of new songs, apparently from a forthcoming record: "We Fight" and "Heart Beat Here" (released last year). They turned up the house mics during "Heart Beat Here" to get some audio to mix into the new album. Who knows, you may hear me shouting in the background when it finally comes out.
In the middle of the set, they played a cover of the Cure's "Just Like Heaven." Carrabba explained that it was the answer whenever he's asked what's his favorite song that he didn't write. The other cover they played last night was Bieber's "Love Yourself", off of their recently released EP, "Covered and Taped."
Carrabba played several solo songs, just him and his acoustic guitar, including "The Places You Have Come To Fear The Most" and "Ghost Of A Good Thing" and "Heart Beat Here."
It's interesting to hear these two bands together, as their styles are fairly different. They seem to have a good relationship going. Their websites each sport a cover of the other's songs, with Dashboard covering "Move Along," and Reject covering "Hands Down." If you are a fan of either, you won't be disappointed.
Dashboard Confessional
The All-American Rejects
Dashboard Confessional Set List
Vindicated
The Sharp Hint of New Tears
The Good Fight
Saints and Sailors
Remember to Breathe
Love Yourself (Justin Bieber Cover)
Just Like Heaven (Cure cover)
Stolen
We Fight
The Places You Have Come To Fear The Most
Ghost Of A Good Thing
Heart Beat Here
Best Deceptions
Don't Wait
Again I Go Unnoticed
Screaming Infidelities
Hands Down