Dropkick Murphys at the House of Blues – Boston, MA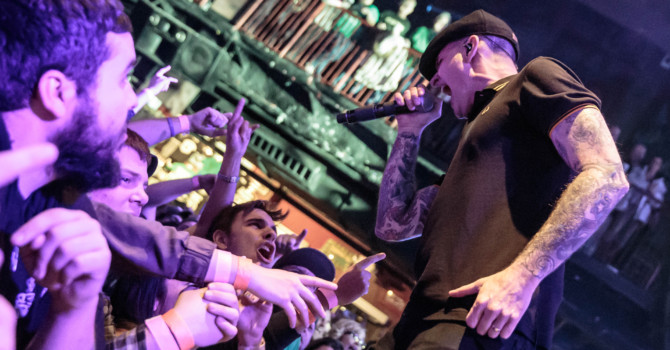 Photos and Review by Jeff Palmucci
Show photos HERE
Dropkick Murphys played a whole bunch of shows in Boston last week. I caught them at the House of Blues on Friday, St Patrick's Day. What better way to spend a day celebrating the Irish than to go to a DKM concert? I couldn't think of one, and apparently I wasn't the only one. The show was sold out.
That was unfortunate for me. After work on Friday, some co-workers and I were having drinks at the pub in the office and we had just enough to get them to come out to the show. Let me tell you, scalping a ticket at a DKM show is pretty freakin' expensive. Don't let that happen to you. Get your tickets early for next year.
You can't blame DKM for the run on tickets. They certainly tried to meet demand with an incredible 5 shows in the Boston area, 5 nights in a row. I have a concert shirt of theirs from a couple of years ago. On the back where it lists the tour dates you can see: Random City, Random City, Random City … and then Boston, 6 times in a row! They are definitely a home town band.
The show, as always, was incredible. Dropkick Murphys unique fusion of Irish folk, hard rock, and punk make for some of my favorite music. The show is typically pretty family friendly with a fair number of kids in the audience. However, it was more so last time I saw them. That may be because of St Patrick's Day.
They put on a great show, straying away from the common rock group instruments with an accordion, banjo, bagpipes and fife, as required by the Irish theme. A couple of times during the show they even brought out some young step dancers to do a routine on stage.
One of the things about the Boston shows is that they try to mix up the set list each night so that people who come back for multiple days get to hear a wider variety of music. The downside of this is if you only go to one of the shows (lame), you don't get to hear as many of the big hits. However, they did play quite a few. They kept the tradition of packing the stage with ladies from the audience near the end of the show while singing "Kiss me, I'm Shitfaced". The ladies were followed shortly by a ton of guys that filling the stage tight for the last song.
It was a great show, and you know what? They are playing the area again on August 7th at the Brockton Fairgrounds with Rancid. Don't be an idiot like me, get your tickets now.