Eric Burdon & The Animals at the Lynn Auditorium – Lynn, MA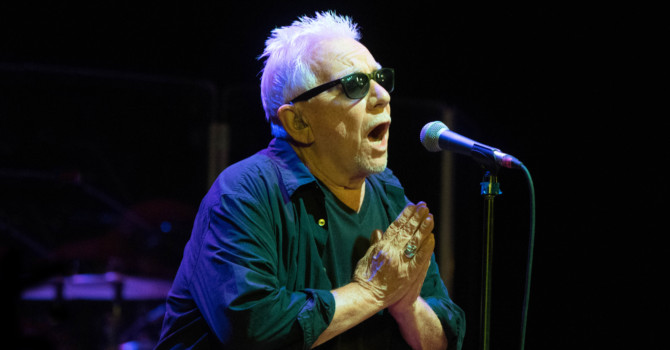 Photos and Review by Michael Cox
Show photos HERE
Legendary Rocker Eric Burdon and The Animals rocked the stage at Lynn Auditorium to a sold out crowd of young and old.
Eric hit the stage with his once jet black hair now turned snow white at the age 76. He's here to show the fans he can rock out. The minute they step on stage the crowd stands and cheers as they start with "Spill The Wine." Eric belts out all the classic hits with the help of the new animals playing keyboard, horns and guitars. Songs like "Bo Diddley Special" show the blues side of the band. On hit after hit the crowd sang along. "The House of The Rising Sun" shows off the softer side of Eric's voice. As the show winds down they close with "We Gotta Get Out Of This Place," "Its My Life," and "Hold On I'm Coming." 
"We Gotta Get Out Of This Place" is the song that every one came to hear. It sent the crowd crazy, dancing in the aisles and singing along. One of the great legends of rock left the stage to a standing ovation. The crowd was yelling his name and wanting more, like kids at their first concert. It was truly a night to remember.