Evanescence at the Orpheum – Boston, MA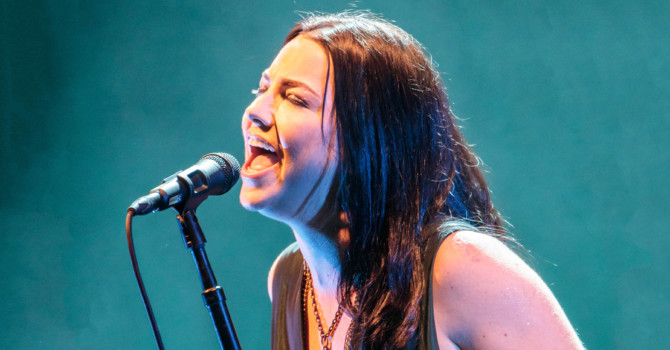 Photos and Review by Jeff Palmucci
Show photos HERE
Evanescence stopped the Orpheum last Sunday to play their new album Synthesis, released yesterday. The new album contains Evanescence classics, along with two new songs, but rearranged to for an orchestra performance instead of the usual guitar heavy rock arrangement.
The orchestra arrangement, of course, requires a full orchestra. They were there packing the stage of the Orpheum. A full horn and wind section on one side, and a full string section on the other. The rest of Evanescence (drums, guitar, bass) in the center.
The orchestra itself was the opening act. They spent about 30 minutes sans Evanescence performing several classical arrangements, which were well received by the crowd. However, it did leave me wondering what I was in for, because Synthesis was not out yet and I had not heard how the songs had been redone.
Amy Lee and the rest of Evanescence came out next and played the new album in its entirety. I'm happy to say that it came out great. The full orchestra gives the songs a much more dramatic feel over the standard guitar and rhythm section setup. Even though the songs are redone to take advantage of the orchestra, the original DNA shines through clearly. You put Amy's incredible voice in front of that, and you get an experience that moved me to tears.
There was one point, during My Immortal, there were two sisters sitting in front of me that stood up and hugged each other to listen to the song. It was a beautiful picture, and I tried to snap a silhouette shot with my phone. I thought they'd appreciate it. However, like a bonehead I left the flash on and kind of ruined the moment. Sorry ladies!
One thing that surprised me: apparently they are playing with new orchestras almost every night. Given how well the orchestra meshed with the band and Amy's signing and piano playing, that's pretty impressive.
You should definitely check out the album. The new arrangement give a much more dramatic feel to your favorites, without being so heavy-handed to destroy the original tone of the music. And if you get a chance, the live performance is certainly impressive.