Fallout Boy at the TD Garden – Boston, MA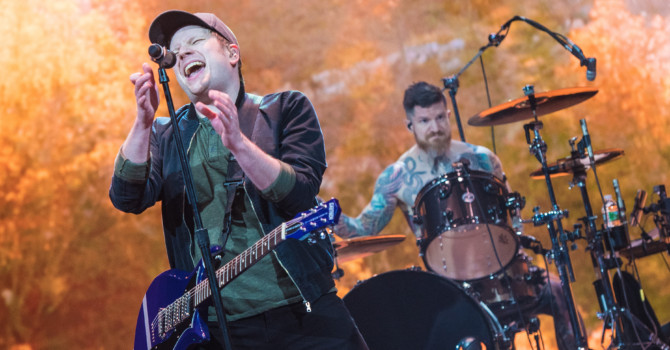 Photos and Review by Bethany Anna Packer
Show photos HERE
Fall Out Boy's Mania Tour brought the crowds in droves to Boston and the TD Garden on Friday. Fans of every stage of the group's over 15 year career poured into the arena with rabid anticipation.
Fall Out Boy, which formed in 2001, took the stage with a "fire" right out of the gate. The production on this tour is a visually spectacular stage show of never ending surprises. The group opened with "The Phoenix" which appropriately was backed by bursts of fire. A screen at the back of the stage boasted bright graphics which included a vibrant fall foliage back drop of fiery orange leaves. Lasers and spotlights flashed on the ceilings and around the venue in a dazzling light show, and a T-shaped stage allowed for members of the group to dash from back and forth across a catwalk, interacting with as many fans as possible.
The group played a perfectly dispersed set list pulling songs from its earliest albums all the way up to unreleased content from their newest upcoming album MANIA. They performed all three of the already released singles from the album, "The Last Of The Real Ones," "Champion" and "Young And Menace" which included a goose bump inducing piano solo from front-man Patrick Stump. The band also served up an unexpected treat by performing "Expensive Mistakes," a new song from the album which is due out on January 19th.
Also thrown into the mix were the group's biggest hits from the band's 2015 album American Beauty/American Psycho including "Uma Thurman" which included in the three song encore. The band also performed old-school songs from very early in their career that had original fans singing along. "Thnks Fr Th Mmrs," "Sugar We're Goin' Down," "Grand Theft Autumn/Where Is Your Boy" were all perfectly placed into the set list. Wrapping the encore and the evening with "Saturday" from their 2003 debut album Take This To Your Grave.