For King and Country at the Shubert – Boston, MA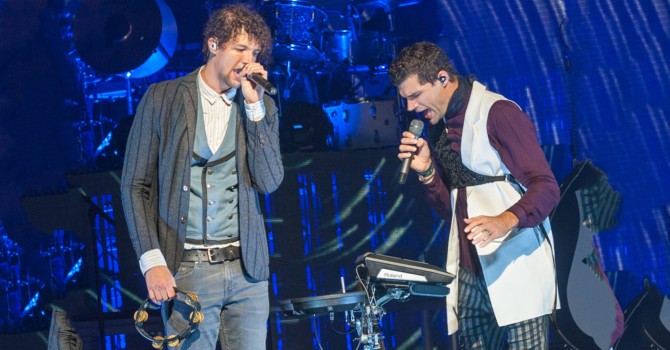 Photos and Review by Colleen Goyer
Show photos HERE
Christian pop duo, For King and Country performed to an all ages crowd at the Shubert in Boston in support of their latest release Burn The Ships. A fairly large band joined the Smallbone brothers, Luke and Joel, with a large amount of percussion. As a drummer myself, I found the varied drums and percussion really cool. It did not drown out the melody but was well mixed with the other instrumentation.
Although there was plenty of music, there were a few other elements to the performance. One was that each of the brothers took moments to share personal stories with the audience and explain how it influenced on their music and contributed to a particular song. Another was that at one point in the evening a birthday cake was brought out for Joel's wife whose birthday was earlier in the week, then the band and the entire audience sang to her.
The brothers and other members of the band played to the audience from one end to the other including going out into the crowd and performing through the rows of seats. The group also had fairly elaborate effects including streamer cannons, lasers, fog and multiple projection screens. The concert started theatrically with lanterns lit at each instrument station and the light building with the music.
It was a very well coordinated program with a full visual and audio experience. Even though I was not very familiar with the group I found the concert very enjoyable and would not hesitate to see them again. Just a really good performance. Check them out!