Halestorm At The State Theatre, ME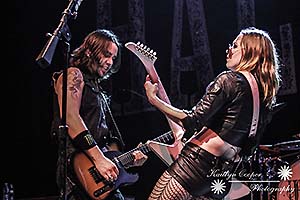 Photos by Kaitlyn Cooper
Review by Kaitlyn Cooper
Show photos HERE
Halestorm is a band that has had a lot of stardom with only two albums, a cover EP, and a live CD. They are native New Englanders coming from Pennsylvania. This was not there first time playing in Maine. Just last year they played the same venue! Just like the last show, they did not let anyone down and showed how much they loved there fans.
The show started with a band that is quit big in New England called, Prospect Hill. This was there second time opening for Halestorm at the same venue. They have gotten awards for their live performances and it defiantly showed.  They were full of energy and got everyone excited to enjoy the headliner. They were jumping around, interacting with the crowd, and singing with the crowd. They defiantly deserved to open for Halestorm.
Then the moment came that everyone was waiting for. The big Halestorm logo on the stage lit up and everyone went crazy. Lzzy, Arejay, Josh, and Joe all came running on to the stage and the show began with a bang. No wonder why these guys are the next big thing. With Lzzy's voice, Arejay's crazy drumming with huge drum sticks, Josh's bass beats, and Joes awesome guitar solos. Its not surprising how popular they are. They never disappoint during a live show. High energy and lots of fun for all ages.