High South at the River Club Music Hall – Scituate, MA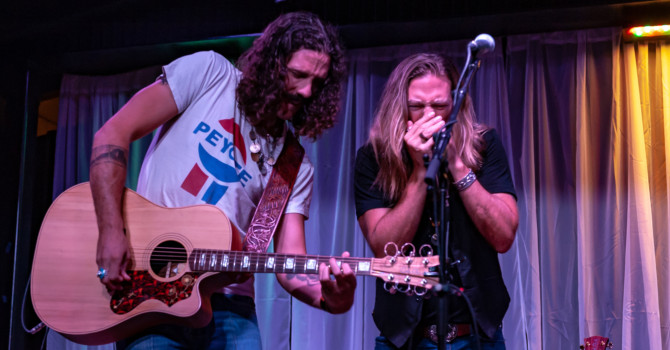 Photos and Review by Colleen Goyer
Show photos HERE
High South performed last week at The River Club Music Hall in Scituate. They played mix of original music and covers of some great bands who they credit with being strong influences on their music. These included The Eagles, Crosby Stills, Nash and Young and America. The Nashville band has been touring internationally and in the US for the past year with this being their first stop in Massachusetts. The evening featured an all acoustic performance with Phoenix Mendoza on lead guitar, Jamey Garner on Harmonica, guitar and some small percussion elements and Kevin Campos on rhythm guitar. The three members shared lead vocals with some incredible harmonies reminiscent of the Eagles and their other musical influences.
High South played 2 hour+ sets, each containing original songs and great covers of classics. Among the covers were Aime by Pure Prairie League, Dancing in the Moonlight by Van Morrison, America's Ventura Highway and Take it Easy by the Eagles.
The band of singer-songwriters shared how their trip to Joshua Tree had influenced their music, including the song Joshua Tree. At one point the band unplugged and went out into the audience for an entire song, interacting with the crowd in this intimate sized venue. Campos commented on how the venue had allowed them to be closer to the audience and interact more than usual, something that all three of the band members seemed to enjoy.
Garners harmonica playing was pretty incredible, even simulating the whistle of a train in a song inspired by trains passing through town during summer nights of his youth. Mendoza covered classic keyboard riffs on the acoustic guitar in a way I had never heard before, staying true to the iconic solos.
Checkout the band's website to give them a listen and see where they are headed next.