Highly Suspect at the Fete Music Hall – Providence, RI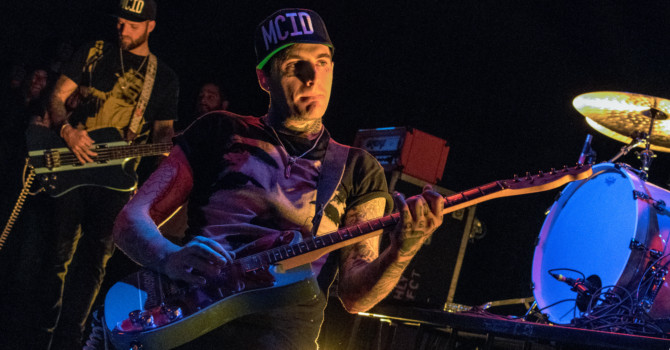 Photos and Review by Kyle McDonald
Show photos HERE
As someone who had heard of Highly Suspect, but had never really listened to them, I was intrigued going into their show at the Fête Music Hall in Providence. The two opening bands were, Gemello, a rap-metal group that brought the roof down early, and Bones, a UK band with badass attitude and killer riffs. Both bands sounded incredible, but something about Bones really drew me in. They gained many new fans during this show, and I plan on following them very closely.
Finally, Highly Suspect took the stage. The first thing that struck me is that they didn't look the way I expected them to. I'm honestly not sure what I expected, but these guys all looked like normal dudes walking on to the stage. However, once they started playing, I realized that they are far from normal. The best way I can describe the feeling of their set was one huge party. They started off with a kick-ass rendition of their song "Bath Salts," which set the tone for the set to come. They then brought the audience through some of their biggest songs, like "Bloodfeather" and "Lydia," as well as some deeper blues-rock cuts, like "Viper Strike" and "Serotonia".
This show did reach a sad point, however, when Johnny Stevens, the frontman of the band, announced that earlier that day, one of his best friends, Ashley, had passed away earlier that day. He then went into a very moving cover of Real Life's "Send Me An Angel." After that, while Johnny went off-stage, Rich and Ryan performed a few songs without him. When Johnny returned, a real party broke out as the band launched into a nearly half-hour long jam session, with many members of the audience hopping on stage and jumping wildly into the crowd. Out of all the concerts I've been to in my life, I've never quite seen anything like this, and I loved seeing the whole band interact with the crowd like that. It felt like a truly special and intimate moment between a band and their fans.
The band ended their first set with their first single off their newest album, "My Name Is Human." This conclusion would've satisfied everyone, but they weren't down just yet. After a brief exit, they returned to deliver a three-song encore to send the audience off into the night with one last thrill. Overall, for a band that I had only started listening to hours before the show, these guys truly astonished me. I will absolutely be keeping tabs on them and supporting them whenever I see a show near me, and I highly recommend that you check them out.