The Hold Steady at The House of Blues – Boston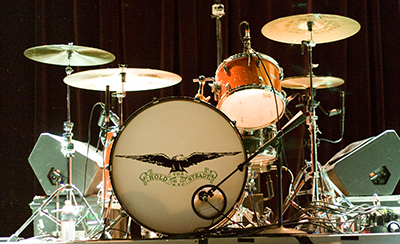 Review and photos by Eric Pennell
Show Photos: HERE
The Hold Steady (THS) played the House of Blues, Boston this Thursday night, on tour promoting their new album, Teeth Dreams.  Craig Finn and crew hit the stage to deafening applause and set the cadence for the rest of the evening by opening with A Positive Jam, the first song off their very first album, Almost Killed Me.
Forget about music sub-genres; alternative rock, indie rock, etc.  The Hold Steady are a Rock n Roll band.  The heavy guitars of Tad Kubler and Steve Selvidge drenched the crowd with sound, playing off each other's power chords and leads.  The rhythm section, held down by Bobby Drake on drums and Galen Polivka on bass, were solid.
Now here is where The Hold Steady stand out from all those other rock bands:  Craig Finn's signature narrative-style vocals.  Stories of sex, drugs, parties, girls long lost and of course, Rock n Roll, are delivered like excerpts from a novel.  Craig engages the crowd, pointing and gesturing (sometimes to some particular  individual in the crowd) before pulling back from the mic, throwing his hands in the air and yelling something at some other person in the crowd.  He is not singing at you, he's carrying on a heartfelt conversation with every person in that crowd, and they all know it.  Song after song, the crowd sang along and pumped their fists these epic anthems.
Craig Finn did play his usual Telecaster on few songs but seemed very content leaving more of the rhythm guitar work to Steve Selvidge, while embracing the roll of full time lead singer.  He is all over the stage, jumping back and forth and pointing to the crowd, ensuring he has our attention.
The show ended with a fantastic performance of Stay Positive and prior to the band's departure, Craig added,  "Stay positive Boston.  Thanks being a part of this!"
Thank you THS and see you soon!
Setlist
Positive Jam
I Hope This Whole Thing Didn't Frighten You
Constructive Summer
Hot Soft Light
Wait Awhile
The Weekenders
Rock Problems
Magazines
Lord, I'm Discouraged
You Can Make Him Like You
Chips Ahoy!
Stuck Between Stations
The Swish
Spinners
The Ambassador
Southtown Girls
Hurricane J
How a Resurrection Really Feels
Encore:
The Sweet Part of the City
The Only Thing
Your Little Hoodrat Friend
Sequestered in Memphis
Massive Nights
Stay Positive