Jane's Addiction Rocks Maine! 2012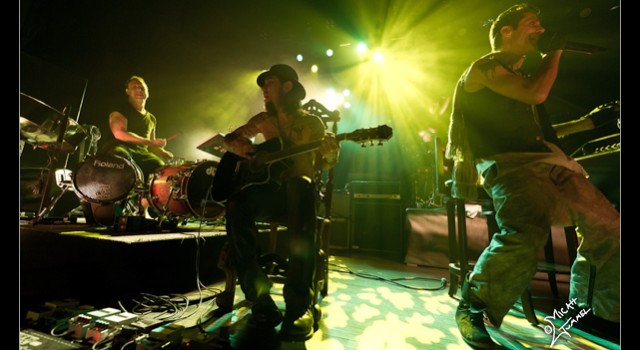 In keeping with the trend for the Great Escape Artist tour,  this was a sold out show to over 2000 people of the State Theater of Portland Maine. Soon after the doors opened, the fans wasted no time to pile in to the State. Within minutes, we were packed in like sardines. 
The Black Box Revelation, a duo drum and guitar band from Brussels, set the stage  for the evenings show. Similar to The White Stripes, with a twist of Blind Faith, they seemed to work well with the crowd. It was quite impressive and a good lead up to what was coming next.
The lights dimmed and the crowd erupted. Theatrics were on display.  The setting was reminiscent of a macabre/erotic haunted-barn with staging in front and a pair of 25-foot-tall gold naked-lady statues, while two scantily-clad women in capacious white gowns long contrails (one of whom, Etty Lau, is Farrell's wife) were raised to the rafters on wires, as a man in a bizarre black crow costume swung out on a riser stage-right. This set the tone for the evening's unbridled strange and intriguing theme for the night. 
Jane's Addiction, the progenitors of alternative rock, opened with Underground, the first track off their 2011 album The Great Escape Artist. This new song served was a great introduction, letting Farrell show he can still hit the crazy high notes for which he is known, even with almost 30 years of vocals. Drummer, Stephen Perkins and bassist, Chris Chaney gave some room to lay out the low end, allowing guitarist, Dave Navarro to belt an epic guitar riff and a screaming solo. This was the ultimate in master of rock posturing! For the first two songs, he was strutting around the stage in a black leather vest and no shirt.
Balancing Navarro's true rocker coolness, is Farrell's manic, immense energy, which, on stage, comes across as pure joy. During a break after the third song, Just Because, from (2001) Strays, Farrell took a moment to say "hi" the crowd. Bouncing from side to side,  waving and smiling — these guys were legitimately happy to be on stage!
The show explored darker metaphors on either side of the stage,  where video screens were playing random light BDSM clips that were slowed down, sped up and filtered to ensure they were as sinister as possible. In keeping with the dark side, the song Broken People, featured a performance in which a man dressed head-to-toe in white and carrying a sack full of baby dolls claimed the stairs up to a large deck where he proceeded to hang some baby dolls as well as dismantling baby dolls heads and appendages. Following this he hanged himself as the song ended. This felt much like weirdness for the sake of weirdness, but there's certain fortitude in attempting to disturb and alienate at least part of your audience.
Farrell's wife and the other woman, previously seen floating up to the top of the theater, returned to the stage as well. Farrell joined them, stalking the pair before mimicking grabbing his wife's hair and spanking her multiple times. Returning to center stage, Farrell never seems to be at a loss for words. For a show whose promotional materials were so fit to fill a person with misgivings, in the end, the spectacle really spoke for itself.  Jane's Addiction definitively proves to remain the powerhouse band they have always been.
The Rail Riders: Fan Reactions to the Show.
The opening act was filled with energy !

Jane's addiction was amazing, hardcore, the scene was a sort of kinky erotica; opening up with Dave Navarro and Perry Farrell and crew [they] rocked the stage hard! Little stage acts happened between songs and some even improved the whole visage of the rock experience !

Underneath they wore stretchy like bondage, nude kind of body suit ... Well maybe they were just nude? ! They were in my mind! 

The stage set up was filled with lights and two sets of led lights. Flashing images and scenes [were] going with the music; the major piece was two naked women back to back; Fans were crowd surfing to the stage and clinging on to Perry F., untill getting pulled off the stage. Perry and Dave even took turns taking pictures with a photographers camera!

The overall night was a fantastic, unforgettable night! From beginning to end, the whole thing was unbelievable! I was asked what my favorite part was and I couldn't pick one. The whole thing was just amazing! Everyone was screaming and head banging with the guys.  Some even threw drinks in excitement! Dave even took some time in between songs to talk to fans and interact with them.

Black Box Revelation: a real party starter! They got everyone amped up and totally ready for the performance from Jane's Addiction.

My whole experience of the night was absolutely amazing; the whole thing was just like a kinky erotic rock concert. Girls were swinging around in what looked like nothing but bondage; prancing around like sex slaves. Sex drugs and rock and roll they say and this show was just that.

Horrific, graphic, images … a robot lady with legs pushing a baby cart …a  man hanging a baby from a neuce … ripping a baby's limbs and head off …a man cutting himself …  a crazy-raven-crow-freakish-bird-like-man …