John 5 and The Creatures – Sellersville Theater – Sellersville, PA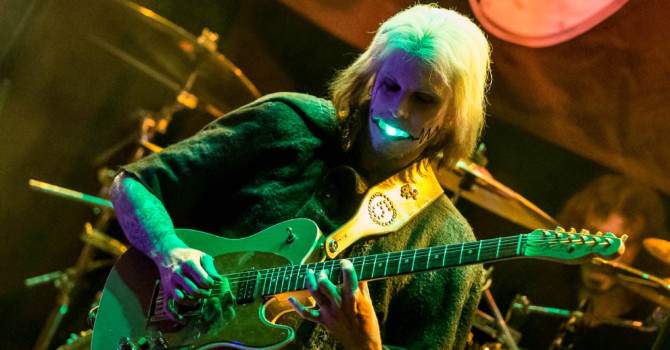 Photos and Review by Tom Bogus
Show photos HERE
John 5 and the Creatures make their triumphant return to the Sellersville Theater in Sellersville, Pa. in support of their cd new release "It's Alive." What makes their return so special is that "It's Alive" was recorded right in that theater on April 10th 2017. The CD was released on January 25th 2018. I had the pleasure of listening to it on my drive to the Theater and it's a great sounding CD. John stated in an interview that there were no overdubs. It's all live.
The stage lights dimmed at 9PM and the fog rolled in as "Johnny guitar" by Peggy Lee is played over the house P.A. The stage was decorated with several large inflatable monsters. On each side of the stage were two speaker cabinets with TV's in them. John 5 and the Creatures took to the stage.
John 5 was playing "Goldie", his gold colored Fender Telecaster and had a multi-colored flashing light in his mouth. His face was painted white with black lips and black zig zagged lines going up each cheek. They opened the set with "Flight of the Vulcan Kelly", a fast tempo song that allows John to show off his shredding skills. Keeping the momentum going, they kicked in to "Here's to the Crazy Ones", "This is my Rifle" and "Making Monsters". As they dove further into the set, they played more diverse songs like "Jiffy Jam" and "Hell Haw." Bassist Ian Ross and drummer Logan Miles Nix performed flawlessly through the many different time changes and music styles.
After doing a incredible cover of "Enter the Sandman" they played the arpeggio heavy "Portrait of Sidney Sloan," one of my favorites of the night. The song has a Rob Zombie feel to it. Another favorite was "The Black Grass Plague," a bluegrass meets metal mashup in which John switches from guitar to a mini guitar to a banjo. They finished off the 16 song set with a medley of several well known riffs from Van Halen, Iron Maiden, Ted Nugent, Metallica, Alice in Chains, White Zombie, Slayer, Kiss, Deep Purple, The Police, Rush, Ozzy, Tom Petty, Led Zepplin, Marilyn Manson, Rage Against the Machine and even Pantera. John started the song playing his white LED guitar and switched midway to a black guitar that had red laser shooting out of it.
This was not my first time seeing John 5 and the Creatures. I experienced them in January of 2016 at NAMMJAM in Anaheim California, so I knew I was in for a great show. I have to say they exceeded my expectations. I'd make the trip to see them again.
1 – Flight of the Vulcan Kelly
2 – Here's to the Crazy Ones
3 – This is my Rifle
4 – Making Monsters
5 – Jiffy Jam (Jerry Reed cover)
6 – Hell Haw I.G.R
7 – Season of the Witch
8 – Enter Sandman (Metallica cover)
9 – Portrait of Sidney Sloan
10 – First Victim
11 – Ddd
12 – The Black Grass Plague
13 – Behind the Nut Love
14 – Six Hundred and Sixty Six Pickers in Hell, Ca
15 – Guitars, Tits and Monsters
16 – Medley