The Kenny Wayne Shepherd Band at the Hampton Beach Casino Ballroom – Hampton, NH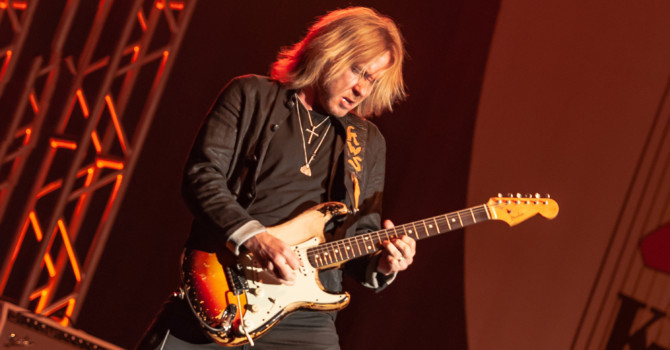 Photos and Review by Colleen Goyer
Show photos HERE
It was an awesome evening of blues with a little Hendrix thrown in the other night at Hampton Casino Ballroom with the Kenny Wayne Shepherd Band, a group of talented musicians with the incredible guitar playing of KWS highlighted in every song. His solos had the crowd cheering and applauding over and over. The band played with very little break between songs giving the audience about 2 hours solid of rockin' blues.
Opening up with Never Lookin' Back, they hit upon many fan favorites including Down for Love, Hard Lesson Learned and Deja Voodoo. Noah Hunt handled the majority of the vocals with a few songs sung by KWS himself. Of course the big hit Blue on Black was not missing from the set list and had all voices in the venue joining in. KWS played to the entire room, walking the stage making sure that he spent time at each end. It was easy to tell how into the music he got by his head movements and expressions.
As would be expected, the crowd demanded an encore with a standing ovation and chanting. Shepherd showed his ability to come as close to Hendrix's sound as I have heard with his great rendition of the Hendrix classic, Voodoo Child.
The tour continues down the east coast over the next few weeks.