Love and Opium at the Greasy Luck in New Bedford, MA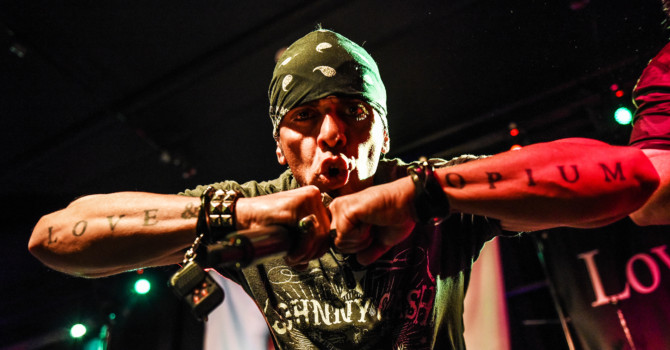 Photos and Review by Jim LaValley
Show photos HERE
Love and Opium opened for Adler's Appetite with Steven Adler (Guns n Roses' original drummer) on a nice brisk October evening at the Greasy Luck in New Bedford, MA.
The band has been in a hiatus and has recently rebooted with a new lineup that has visible synergy. You can tell when a band is working well together when they pull you into each song and grab your attention. Their set included previous hits such as "Day Tripping," "Boris," "Die Alone," and a favorite of mine "Feeling no pain" "Die Alone" was a soundtrack for the movie "Underground." The new lineup consists of original members Joey deMedeiros on vocals and Mike Paull on lead guitar and vocals. Returning to the lineup is Mike Green on rhythm guitar and Jeff Stryker on bass guitar. A new addition to the band is Gil Santos on drums. Joey's vocals have a catchy tone and he definitely knows how to work the crowd.
Mike Paull's execution is worth taking a moment to highlight. The feeling he projects to the audience is nothing short of amazing. Mike doesn't jam for speed, he plays fluidly with deep feeling. During the set he dedicated an acoustic version of a song called "Eternal" to his daughter that pulled the audience in with incredible moments throughout the song. You can definitely see the Randy Rhodes influence shine through his playing, he plays every note with such feeling. Love and Opium has taken a refreshing twist on how Joey and Mike go back and forth on vocals, which sounds great.
Mike Green, Stryker, and Gilbo set the rhythm for each tune to support the blend of leads and vocals that are injected throughout their set. Gilbo's meter and the way he drives each tune with precision and timing pounding the skins, also pulls the crowd into each song.
The crowd thoroughly enjoyed the set to get them ready for the Adler show. Love and Opium is planning on kicking out some new music in 2019. With this lineup, I bet the creativity should be great!!!
All in all, I thought their performance was superb and well worth checking out.