Lynyrd Skynyrd at the Xfinity Center – Mansfield, MA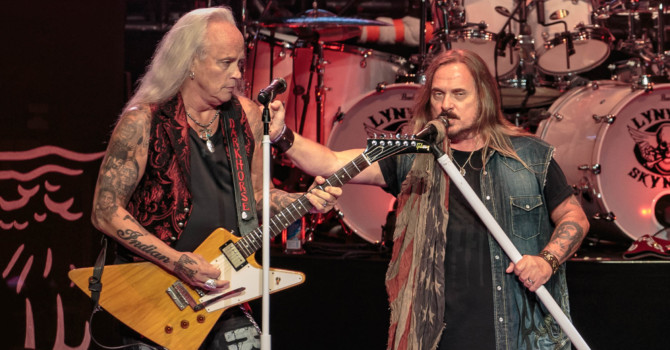 Photos and Review by Jeff Palmucci
Galleries: Lynyrd Skynyrd, 38 Special, The Marshall Tucker Band
This is it. The farewell tour. This is the last chance you'll have to see Lynyrd Skynyrd. Ever.
I saw them a week ago at the Xfinity Center, along with a night packed full of Southern Rock. I got there in time to catch the Marshall Tucker Band.
These guys helped start out the Southern rock movement way back in 1972. Original member and lead singer Doug Grey mentioned he turned 70 years old this year. Wow, time flies. They put in a solid performance with a fair amount of interaction between the band members. Although you could hear a slight change in Grey's voice, he was still great and I enjoyed the set.
Next up was .38 Special. .38 Special have a special relationship with Skynyrd. Donny Van Zant, who led the band till 2013, is the younger brother of original Skynyrd lead Ronnie, and older brother of current lead Johnny. Donny, unfortunately, is no longer with the band. Don Barnes, who's shared lead vocal duties for quite a while did just fine. 38 Special has a little less of the "Southern" in Southern rock than the other 2 bands here. They played a ton of their hits that you all know, including Caught Up In You and Hold On Loosely.
Skynyrd was up next, and they were freakin' amazing. They seemed energized by the fact that their touring was nearing the end. As a photographer, it's always great to see a band enjoying themselves like this. Makes my job dirt simple.
These guys put out some insanely good music and practically define the southern rock style. The crowd was singing along to all their most famous tunes, including Gimme Three Steps, Sweet Home Alabama, Simple Man, and many others. I absolutely love how Three Steps combines bluesy guitars, western sounding piano, and fun lyrics. Go ahead, use that link above to give it another listen, I'm not going anywhere.
They left the stage near the end of the night without playing Freebird. They were not fooling anyone, nobody budged between the last song and the encore. At the start of Freebird they set up the center mic with late lead and band founder Ronnie Van Zant's hat sitting on top. Then Johnny walked of the stage and the band played the song with a video of Ronnie singing it in the background. I assume Johnny was singing from offstage, but they made it seem like Ronnie was singing. It was very touching and brought a tear to my eye.
As the band left the stage, the back-of-stage video rolled credits including all the names of past members in tribute.
If you are at all a Skynyrd fan, you have to get out and see this final tour. Yeah, there's been a lot of bands that have come around after their final farewell tour (cough, cough, The Who). There's been a lot more that didn't. When you think of that, you've gotta ask yourself one question: "Do you feel lucky?" Well, do ya, punk?
Lynyrd Skynyrd
.38 Special
The Marshall Tucker Band