Miranda Lambert at the Dunkin Donuts Center – Providence, RI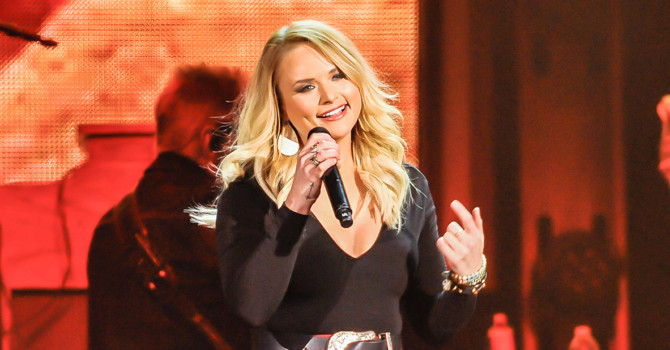 Photos and Review by Jim LaValley
Concert Galleries: Miranda Lambert, Old Dominion
Miranda Lambert on her "The Highway Vagabond Tour" with guests Old Dominion and Aubrie Sellers stopped by the Dunkin Donuts Center for great live performances on February 2, 2017.
It's been a while since I've seen a live show at the Dunkin Donuts Center. In the 1980's I saw numerous shows when it was called the Providence Civic Center.  The sound in this arena was just as good as it was over 30 years ago, Miranda sounded great.
I haven't seen any of these bands before and was psyched to try to capture some good moments.
Miranda opened the show with her debut smash certified Platinum hit "Kerosene" from 2005, which rocked the house.  Her band was really impressive with a backup vocalist, two guitarists, a steel guitarist/banjo guitarist, bass player, drums, and Miranda on guitar/vocals.  She then went into her new hit "Highway Vagabond" continuing with a nice mixture of old hits and numerous songs off her new double album "The Weight Of These Wings".
Miranda Lambert's new single "Vice" was nominated twice this year at the Grammys, for "Best Country Solo Performance" and "Best Country Song".  Miranda also received six nominations for the 52nd Academy of Country Music Awards – Album Of The Year, Female Vocalist Of The Year, Single Of The Year, Song Of The Year, And Video Of The Year.
The band sounded great and Miranda's vocals and guitar was also impressive, strong, and powerful.  Most of Miranda's lyrics are rich with meaning and her songs take you on a journey.  You could definitely feel the vibe and while looking around the crowd, you could tell everyone was having fun.  She ended the night with "Gunpowder & Lead," a song about a woman waiting for an abusive man with a loaded shotgun.
If you haven't seen Miranda Lambert live, I would put that on a list to check out because she put on a great show.
Miranda's Setlist:
 Kerosene
Highway Vagabond
Fastest Girl in Town
Heart Like Mine
For the Birds
Vice
Over You
All Kinds of Kinds
The House That Built Me
Keeper of the Flame
Pink Sunglasses
Ugly Lights
Mama's Broken Heart
Baggage Claim
We Should Be Friends
Automatic
Little Red Wagon
White Liar
Gunpowder & Lead
Encore:
Miranda Lambert
Old Dominion