Modest Mouse at The Strand – Providence, RI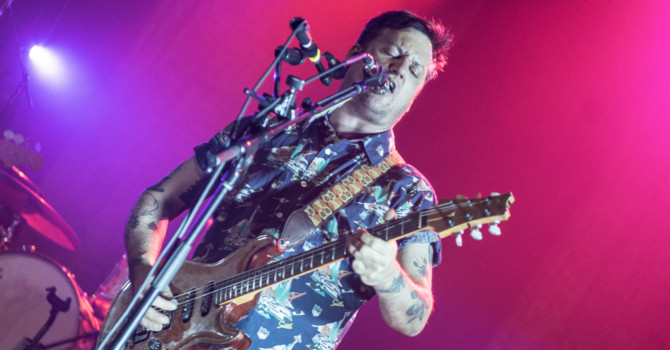 Photos and Review by Bethany Anna Packer
Show photos HERE
Last week Modest Mouse came to Providence on their Fall 2017 tour for a sold out show at The Strand Ballroom & Theatre (formerly Lupo's Heartbreak Hotel). The band took the stage almost 20 minutes after their scheduled set time to a room full of anxious and impatient fans. As front man Isaac Brock began the unmistakable strumming of "The World at Large", the crowd swiftly got lost in the music and rapidly forgot about having been made to wait.
Center stage and bathed in blue light and smoke, the music rose and the group launched into a perfectly chosen set list as Modest Mouse mixed new and old material throughout the band's almost two-hour set.
After opening with "The World at Large" followed by "Sugar Boats" and "Never Ending Math Equation", the band's energy increased with their fans ever rising enthusiasm. Modest Mouse is known for its funky '90s beat laced with electric guitars to create a unique sound that filled the newly renovated venue.
The band performed a balanced mix from their catalogue of hits, catering to newer fans and the die hard's alike. Playing tunes such as "Missed the Boat", "Lampshades on Fire" and "Dashboard". After a brief break the band returned to the stage for a 5 song encore which wrapped with "Cowboy Dan" as fans sang along. The only Modest Mouse hit missing from the set list was their most popular hit "Float On", which I definitely was hoping to hear.
All in all Modest Mouse delivered a strong and enjoyable set and I can't wait to see what this band has in store for us next.