Myles Kennedy at the Webster Theatre – Hartford, CT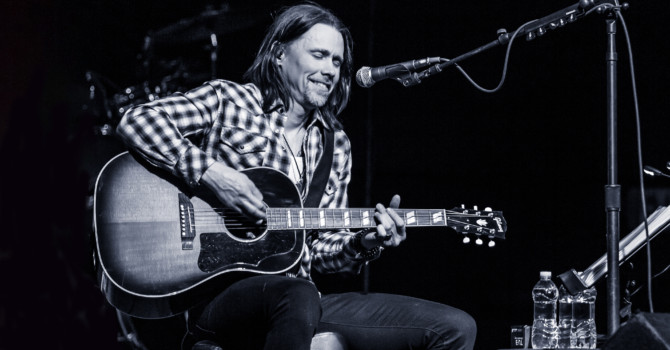 Photos and Review by Ilya Mirman
Show photos HERE
Though we've covered Myles Kennedy countless times for the better part of a decade – both with Alter Bridge, and with Slash – there was so much to see and experience on his solo tour in support of his new album, Year of the Tiger.
The album is almost entirely focused on the loss of Kennedy's father when the singer was just four years old. His family was very involved in the Christian Science church, and when his father became ill, he chose not to seek medical attention, and passed away a few months later.
"By all accounts, my father was a good, honest man, but I still struggle with the choices he made which ultimately led to his death.  This was something I had wanted to dive into throughout my career," Kennedy says. "It just took decades to muster up the courage. Beneath the surface, the wounds were pretty raw, but it just had to be done."
With Year of the Tiger, Myles Kennedy opens himself up in ways that would be painfully, shockingly personal and intimate for anyone, much less for a revered rock and roll frontman. "This record is my attempt to convey things that I've needed to express for a long time. What I found hiding in the deep, dark corners of my psyche was difficult to face, but in the end, what came out of the creative process was very cathartic."
Delving into this emotional territory required a musical approach far different from the hard rock that has defined Kennedy's arena-filling career. The majority of the record was written on acoustic or resonator guitar and recorded directly to tape using a limited number of tracks. Kennedy himself plays banjo, lap steel, bass, and mandolin in addition to guitar on Year of the Tiger, joined by drummer Zia Uddin and Tim Tournier on bass.
Kennedy sought out to make a record where he could have the opportunity to explore and document a different element of his musical DNA – a love for the blues, R&B, and acoustic based music. "I was trying to tap into something a little more subtle, as opposed to a big, bombastic, high gain sonic attack."
The tour's live show mirrors the stripped down arrangement and feel of the album, alternating between the singer/songwriter performing solo, and several songs with Uddin on drums or bongos, and Tournier providing a solid foundation.  It was clear the three have a long history together and a lasting friendship, making the show that much more intimate.
Interspersed throughout the set were covers from Kennedy's other projects (Alter Bridge, Slash)  and staples from blues greats (Freddie King, Robert Johnson).
Kennedy is a giant, talented and prolific – with a huge body of work and jamming with everyone from Steel Panther to Jimmy Page.  Not surprising, the crowd was ecstatic, with multiple generations of fans across the music landscape singing along enthusiastically throughout the beloved frontman's set.
Personally, because I've previously seen him primarily on vocals, I really enjoyed Kennedy's guitar playing.  Exposing the six string side I've not seen on display before, the fretwork and sonic textures were as mesmerizing as they were entertaining.
A particular highlight for me was his performance of World on Fire, the title track from his 2014 album with Slash.  I've heard this song countless times, and know it as a frenetic rock anthem. To hear it performed with a completely different treatment – a slow, bluesy number strummed on a resonator guitar – was a blast.
Kennedy's tour continues across the U.S. through the rest of 2018.  Catch him if you can!
SET LIST
Devil on the Wall
The Great Beyond
Ghost of Shangri La
Addicted to Pain (Alter Bridge song)
Blind Faith
Haunted by Design
Nothing but a Name
White Flag (The Mayfield Four song)
The Trooper (Iron Maiden cover)
Watch Over You (Alter Bridge song)
One Fine Day
Travelling Riverside Blues (Robert Johnson cover)
World on Fire (Slash feat. Myles Kennedy & The Conspirators cover)
Turning Stones
Year of the Tiger
Going Down (Freddie King cover)
Love Can Only Heal