NAMMJAM at the Anaheim Garden Walk Center – Anaheim, California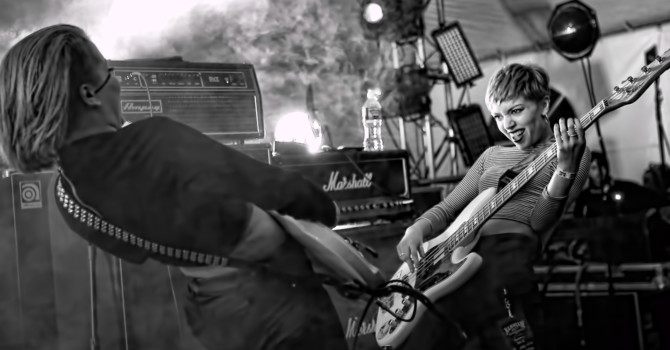 Review by Debbie Steir
Photos by Tom Bogus
Galleries: Buckcherry, Like a Storm, Doll Skin, Hillbilly Herald, Vital Noise
Despite cool weather and the threat of rain Suzanne Penley, David Vincent, and Curse Mackey, all co-founders of Delve Texas, produced another successful NAMMJam on Friday, January 20, 2017, at the Anaheim Garden Walk Center in Anaheim, California. Hosted by Jose Mangin (Sirius XM) the event benefited the non-profit House of Blues Music Forward Foundation. The Foundation works with underserved children ages 12-19 hosting workshops and showcases providing real life skills as well as the stepping stones to move towards musical careers.
Headlining this year was Buckcherry. Delighting the crowd with his animated dance moves and unmistakable vocal style the charismatic Josh Todd along with bandmates Stevie D (guitar), Keith Nelson (guitar), Kelly LeMieux (bass) and Xavier Muriel (drums) rocked the Garden Walk. The setlist for the evening included 12 songs opening with "Ridin'". The set also included fan favorites "Lit Up", "Too Drunk", and "Sorry". At one point checking the setlist Todd was heard saying "Oh that's a good one". Closing out their set, as well as NAMMJam, Buckcherry performed a fabulous extended funked-up arrangement of "Crazy Bitch" which included several solos and even a few synchronized dance moves between Todd and LeMieux. It must be mentioned that this was not Todd's first NAMMJam. Last year Todd joined John-5 on stage during a cover of "Killing in the Name Of" by Rage Against the Machine.
Supporting acts included "Vital Noise", an alternative rock/post hardcore band from LA, consisting of brothers Andrew and Preston Wilmot (guitar and bass respectively) and Izak Athanas (drums). Having played venues like The Roxy and now NAMM Jam you can expect to be hearing more about this extremely talented group of young men. "Hillbilly Herald" – a gritty hard rocking five-member band out of LA that formed in 2008 – took the stage next. Lead by Jimmy Herald with his PBR custom mic stand along with bassist Adam Wolf, drummer Louie "Seabiscuit" Riel, and guitarists Ben LeRoy and Tommy Peacock "Hillbilly Herald" has toured nationally having opened for the likes of "Slash" and "Steel Panther". Following was the all-female all teenager glitter punk band "Doll Skin". Formed in Arizona in 2013, "Doll Skin", consists of vocalist Sydney Dolezal (15), guitarist Alex Snowden (16), bassist Nicole Rich (17), and drummer Meghan Herring (19). These girls are talented enough to have caught the attention of "Megadeth" bassist and co-founder David Ellefson whom they have been working with ever since. Final supporting act was "Like A Storm". A hard rock/post grunge band formed in New Zealand LAS has toured with bands such as "Shinedown" and "Korn" and have headlined as well. They have a unique sound combination of baritone guitar riffs, hard rock and didgeridoo.
If NAMMJam wasn't enough, party-goers were treated to an "After Party" continuing the good vibes and party spirit at Fire + Ice Grill + Bar which is also located at the Anaheim Garden Walk. If you have never attended a NAMMJam, it is highly recommended you do. This "go to event" is the hottest ticket at NAMM.
SETLISTS
BUCKCHERRY:
1 – Ridin
2 – Slammin
3 – Say Fuck It
4 – Too Drunk…
5 – These Things
6 – Whiskey in the Morning
7 – Lit Up
8 – Tired of You
9 – Out of Line
10 – Gluttony
11 – Sorry
12 – Crazy Bitch
LIKE A STORM:
1 – Chaos
2 – Never Surrender
3 – Become the Enemy
4 – Gangsters Paradise (Coolio cover)
5 – Break Free
6 – Wish You Hell
7 – TNT (ACDC cover)
8 – Love the Way You Hate Me
DOLL SKIN:
1 – Weatherman (Dead Sara cover)
2 – 8
3 – Sunflower
4 – Wring Me Out
5 – Lets Be Honest
6 – Uninvited (Alanis Morissette cover)
7 – Furious Fixation
8 – Family of Strangers
HILLBILLY HERALD:
1 – Greedy Me
2 – Sucker Punch
3 – Full Throttle
4 – Dead on the Money
5 – Shame on Me
6 – TNT (ACDC cover)
7 – Rock N Roll (It's All I Wanna Do)
VITAL NOISE:
No Setlist
Buckcherry
Like a Storm
Doll Skin
Hillbilly Herald
Vital Noise