Nick Cave and Cigarettes After Sex at the Anthem – Washington, DC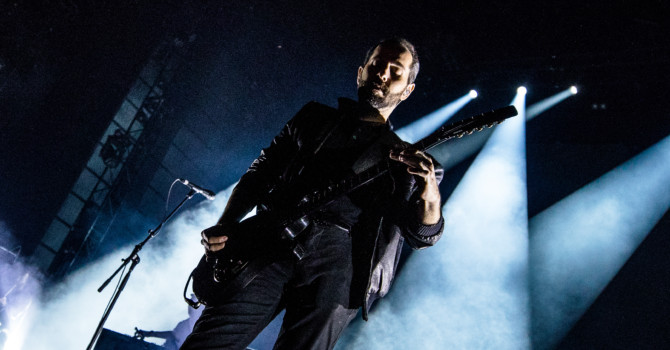 Photos and Review by Stephen Pompeo
Galleries: Cigarettes After Sex
He walked onto the stage in North Hampton, MA., black suit, piano, a single light illuminating his presence, his own voice echoes the poem "Steve McQueen" throughout the Academy of Music; here he is the 'moonlight man'. The audience responds with an applause of appreciation. Calm, confident, he glides; sitting in front of the piano, the curtain behind him red. He played through Sad Waters, he finishes peacefully. Without hesitation, he immediately begins addressing the audience's questions with the patience and authenticity of a grade school teacher. This connection was as important for him as it was for them; an experiment he conducted on how to grow perpetually closer.
Fast Forward to Washington DC. Cigarettes After Sex wraps up their ethereal set, which would only amplify the aggressive musical experience that is Nick Cave & the Bad Seeds. There is a long staging platform separating the audience from the stage at the Anthem. The roaring synth of Jesus Alone radiates across the venue. He instantly appears, calling out to the audience, jumping onto the staging platform so they can touch him, feel him, as he paces like a mad preacher; they claw at his legs, striving to grow perpetually closer. Nick Cave is known for his brilliant engagement with audiences. He adlibs parts of each song to keep the audience engaged, antagonizing them with an aggressive force. He writhes on stage, completely consumed by his own compositions, and minutes later throws himself at the audience so they can freely grab and pull at their own will.
The staging platform is his primary prop at the Anthem. Nick looms over his audience, placing him in a position of power. He leads the crowd from song to song with a sense of intimate hostility, pulling against each spectator as they strive to get closer. One fan reaches out to touch his chest as he kneels and leans into the crowd from the staging, "Yea! Yea! Yea! Yea! Yea!, he grabs her hand tightly, pushing it hard and close to his chest "Can you feel my heart beat? Boom! Boom! Boom!" as he wraps up Higgs Boson Blues. Nick eventually descends from the stage, and violently pushes through the crowd, as the Bad Seeds rhythmically play an extended version of the Weeping Song. He is in control this time; pushing and pulling at them at his own will.
By the end of the show, Nick has nearly one hundred people on stage with him and the Bad Seeds. He tells them a story about a bad motherfucker known as Stagger Lee; they look at him with their questioning eyes, waiting for the part of the song where Stag fills the Devil with lead. This is their moment, and exactly where they're supposed to be; and they listen intently. He is now at his closest with them, and yet still, in complete control. They hang on his every word, keenly listening like grade school students. "Goodnight, D.C." he exclaims. And for one night in D.C., the experiment was complete.
Cigarettes After Sex