The Offspring and Sublime With Rome at the Blue Hills Bank Pavilion – Boston, MA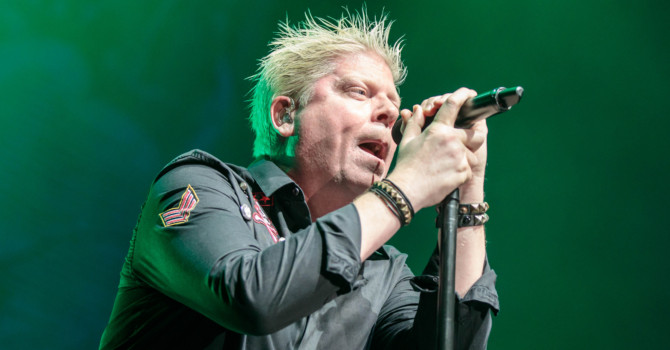 Photos and Review by Jeff Palmucci
Galleries: Sublime With Rome, The Offspring
The Offspring and Sublime with Rome swung by the Blue Hills Bank Pavilion last week. It was interesting seeing these two bands play together in the same show. Their musical styles are very different, with The Offspring leaning toward the rowdier side of punk, and Sublime (With Rome) firmly in the more mellow Ska genre.
The Offspring were up first, and I just love these guys. Like I said, their music tends to be pretty rowdy, but always with a healthy dose of humor. Who could forget classics like "Pretty Fly (For a White Guy)," about a hapless teen co-opting hip hop culture? Or "Self Esteem," about an incredibly p*ssey-whipped idiot? (Is that too harsh? This song may hit a little close to home.)
Of course they also have their serious side too. During the intro to "Gone Away", Dexter explained the meaning of the song, about those that have passed away. He actually wrote this song after his girlfriend died in a car accident. He then broke into a beautiful and touching piano solo for the first half of the song, not at all like the video above. I'm actually tearing up here at the keyboard thinking about it.
The Offspring don't have a new album, but honestly they didn't need one. They have a huge backlog of hits which they used to fill up their respectable 16 song set.
Up next was Sublime With Rome. Sublime With Rome was started as a collaboration with the remaining members of Sublime (after Brad Nowell's death) with guitarist and vocalist Rome Ramirez. The band has 2 original albums: 2011's Yours Truly, and 2015'2 Sirens. However, most of the setlist was from the Sublime catalog, with only "Murdera," "You Better Listen," and "Panic" from the SWR catalog. The fans were just fine with that, with everyone dancing to the Sublime classics.
In all, a pretty fun night. Pairing these two bands up was an interesting choice.
The Offspring
Sublime With Rome