Panic At The Disco at the Dunkin Donuts Center – Providence, RI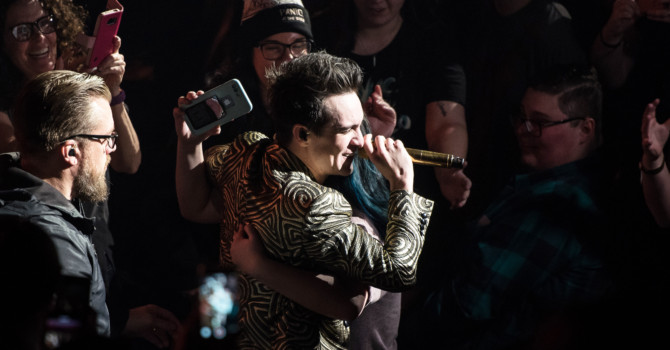 Photos and Review by Bethany Anna Packer
Show photos HERE
Grammy-nominated band Panic! At The Disco brought the second leg of their upcoming Pray For The Wicked North American arena tour to the sold out Dunkin' Donuts Center in Providence last Saturday.
This leg of the tour run rides the wave of Panic!'s latest hit album, Pray for the Wicked, which was released June 22 to rave reviews, rapidly becoming the bands second number one album in a row.
After openers Betty Who and Two Feet warmed up the sold out Providence arena, excitement mounted as a countdown began on a large black screen mounted above the bands elaborate triangle shaped stage. When the countdown reached zero the crowd erupted into screams of elation as front man Brendon Urie exploded onto the stage along with a massive confetti blast that showered fans.
Panic! puts on an insane live show that is nothing short of a massive production. With a Broadway background, Urie and crew clearly know how to create a spectacle. Urie demonstrated vocal perfection, perfectly hitting every high note, each met with cheers from the ever captivated audience. Every song of the extensive 28 song set list was different. From confetti, to fire, to beautiful light shows, and intense drum solo from Urie and a flying piano… there was never a dull moment.
Urie clearly is the star of the show, but you can't forget about the backing band, without which the show wouldn't be the same. A full string section of beautiful long haired beauties and an energetic horn section was an impressive addition. Guitarist Kenneth Harris and bassist Nicole Row playfully worked off of each other throughout the set.
Panic! At The Disco ended the evening with a three song encore of their biggest hits from across their discography, "Say Amen (Saturday Night)," "I Write Sins Not Tragedies" and "Victorious" which perfectly wrapped up the evening. Panic! At Disco put on a 'wicked' unforgettable performance in Providence, and I can't wait to see what they throw at us next.